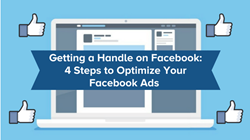 Facebook has set the bar as far as what businesses can achieve through social media outlets.
AUSTIN, Texas (PRWEB) October 09, 2018
Facebook is one of the main social media platforms for business marketing, and while others are quickly catching up, Facebook has set the bar as far as what businesses can achieve through social media outlets.
However, many people are somewhat confused as to how to approach this type of marketing properly. They wonder how often they should post, what they should post about, and whether they should invest in Facebook ads.
In a new episode of Magnificent's marketing podcast, Facebook marketing master Azriel Ratz explains why Facebook marketing is both useful and important and provides four steps to help businesses optimize their Facebook ads.
Ratz discusses the following:

Identifying goals
Finding a high-quality audience
Ad content creation
Analytics
And more!
This is a new episode of the Magnificent Marketing Podcast. The episode can be found - along with an accompanying blog - here, as well as on iTunes, Google Play and other platforms.
About Magnificent Marketing:
Magnificent Marketing is your full-service content marketing agency that will take care of all your marketing needs so that you can concentrate on the core duties needed to manage and grow your business.
Their objective is to generate leads that turn into customers while focusing on expanding the visibility of your company and brand, and positioning you to be "top of mind" for future potential clients.
In order to achieve this, they draw on their experience and belief that a mixture of traditional marketing techniques combined with modern marketing tools will yield the best results. In other words, they blend old and new school marketing to create the best school of thought.
About Azriel Ratz:
Through his years of experience in online marketing Azriel Ratz has perfected his strategy for companies to find their ideal audiences and create the most relevant ads for their businesses.
Azriel's Facebook ad process is FEO (Find, Engage, Optimize). Begin by find the right audience, then engage that audience with the best possible ads, then optimize the ads to get the best possible results. To learn more about this process go to http://FEO.talkaboutads.com