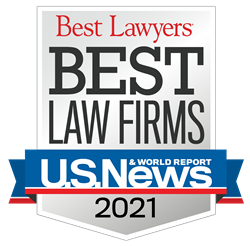 NEW YORK (PRWEB) December 22, 2020
Tannenbaum Helpern is pleased to announce that its Litigation, Construction, Franchise Law and Real Estate practices have once again received top tier rankings in the annual U.S. News & World Report and Best Lawyers 2021 "Best Law Firms" list for New York City. Two of the Firm's practice groups, Construction and Franchise, also received top tier national recognition.
Each year, U.S. News & World Report and Best Lawyers "Best Law Firms" recognizes select law firms for their professional excellence and for consistently receiving impressive ratings from both clients and peers. For law firms to be eligible for this ranking, they must have a lawyer recognized in The Best Lawyers in America, which is limited to five percent of lawyers practicing in the U.S. Over 15,500 law firms were considered for inclusion in the Best Law Firms ranking and only 14 percent of those firms received rankings.
About Tannenbaum Helpern Syracuse & Hirschtritt LLP
Since 1978, Tannenbaum Helpern Syracuse & Hirschtritt LLP has combined a powerful mix of insight, creativity, industry knowledge, senior talent and transaction expertise to successfully guide clients through periods of challenge and opportunity. Our mission is to deliver the highest quality legal services in a practical and efficient manner, bringing to bear the judgment, common sense and knowledge of well trained, business minded lawyers. Through our commitment to service and successful results, Tannenbaum Helpern continues to earn the loyalty of our clients and a reputation for excellence. For more information, visit http://www.thsh.com or follow us on Twitter: @THSHLAW.