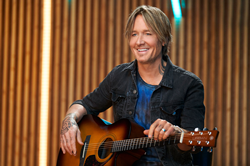 BUENA PARK, Calif. (PRWEB) September 16, 2021
Four-time GRAMMY© Award winner Keith Urban and music industry leader Yamaha have joined forces to produce the new URBAN Guitar by Yamaha: a complete guitar-and-lessons experience for beginner guitarists that includes a finely crafted acoustic guitar, essential accessories including a guitar strap and picks as well as a groundbreaking lessons app curated by Urban.
Urban, one of the world's most respected guitarists explained, "Lots of people want to learn how to play an instrument, but they don't know where to start. I wanted to break down that barrier and make it as easy as possible to start the journey by creating a guitar and tutorial that people can use to 'play.' That's what this is all about for me. We play guitar. We play a show. We play an instrument. We PLAY music. It needs to be playful because it's that playfulness that leads to creativity.
"You know that feeling when you discover a great restaurant or an amazing movie or hear a song that moves you so much you wanna share that with someone else? That's how I feel about the guitar! That's why this is so important to me. I really want people to feel the excitement that I felt when I first started playing."
The guitar itself features a concert cutaway body, lower string tension, and a slim neck with a matte finish, resulting in an instrument that's easy for a beginner to manage.
What sets the URBAN Guitar by Yamaha apart from others is the lesson app, which boasts several step-by-step interactive lessons that feature Urban alongside his teaching partner JUNO. Together, they not only inspire, they provide each student with their own unique experience, learning songs, mastering chords, strumming, fingering, etc. at each player's own pace with real-time feedback.
Using the URBAN Guitar lesson app, players can learn fourteen songs curated by Keith himself, including modern hits, timeless classics, and Keith's hits.
"The URBAN Guitar and the world-class learning technology in the URBAN Guitar Lessons app bring a unique, powerful and fun experience to aspiring guitarists just starting out on their creative journey," said Tom Sumner, president, Yamaha Corporation of America. "Keith Urban is an incredible musician, and he shares the Yamaha commitment to music education and furthering budding guitarists' dreams. Partnering with Keith for this project was a natural choice."
Keith Urban and Yamaha both believe that there's a reason it's called "guitar playing." This is what stands at the core of The URBAN experience. This, combined with Urban's expert approach to coaching, both inspiring and encouraging, is what will keep players engaged and looking forward to their next lesson.
The URBAN Guitar by Yamaha retails for $249.99 in the Yamaha online store and is also available in Amazon's online store.
-END-
About Yamaha
Yamaha Corporation of America is the largest subsidiary of Yamaha Corporation, the world-leading music and sound company, based in Hamamatsu, Japan. The Yamaha team is committed to helping everyone progress, express and connect through music and sound. We offer innovative, finely crafted, award-winning products for your entire musical journey including pianos, brass instruments, woodwinds, strings, electronic keyboards, guitars, drums, professional and home audio equipment.