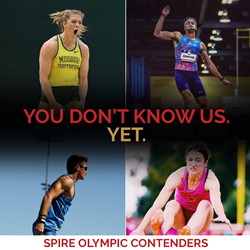 ...these facilities are the best I've ever seen. I've competed at venues all over the country, and I think what SPIRE has is the best. I think we're all really grateful for the situation we have here right now.
GENEVA, Ohio (PRWEB) November 25, 2020
Four athletes with an eye toward representing the United States at the 2021 Olympic Games in Tokyo -- Corey Crawford, Madison "Mady" Richards, Emily Presley, and Reed Scale -- are currently training at SPIRE Institute & Academy (IA).
When the COVID-19 pandemic forced gyms across the country to close, many athletes-- including these Olympic hopefuls-- had no place to work out and continue training to fulfill their Olympic dreams. Although SPIRE also closed in accordance with Ohio's public health recommendations to prevent the spread of coronavirus March and April, the complex was able to open and operate under a strict set of safety protocols in late May.
Corey Crawford, a 2016 graduate of Rutgers University and an elite long jumper, heard of an opportunity at SPIRE that would allow him to work part-time in the organization's marketing office while training alongside track and field legend Coach Charlie Powell. The former NJ state champion and four-time All American holds Rutgers University's indoor long jump record at 26'11-¾ inches (8.22m) and indoor facility long jump record at 24'2-¼ inches.
Long jumper Madisen "Mady" Richards ranked eighth in the state and 19th in the country when she graduated from Simi Valley High School in 2014. After a distinguished long jump career at the University of Southern California (USC), she began working out at the Olympic Training Center in Chula Vista, CA to prepare for the Summer 2020 Olympic Games in Tokyo before COVID forced its shutdown. She plans to go to medical school eventually, but in the meantime, she is training, conditioning, and interning with track and field Coach Charlie Powell at SPIRE. 1
Pole vaulting powerhouse Emily Presley is working with SPIRE's Track & Field Training and Development Director, TIm Mack, while also working as a house parent on the organization's Geneva, OH campus. The Missouri Southern State University graduate has put up four marks on the NCAA D-II all-time chart, including her personal best which ranked her as the fifth best indoor performer. Presley says training with Mack, a 2004 gold medal winner for the US and one of only 18 pole vaulters in history to clear 6.01 meters or higher, is helping her physical and mental game as she works toward making the Olympic qualifying event schedule in June, 2021.
Like his fellow Olympic hopefuls, pole vaulter and UCLA graduate Reed Scale was working hard toward earning a spot on at the qualifying event for the Tokyo Olympics when COVID forced the closure of his home gym in California. Several months ago, he came to SPIRE, where he divides his time between training with Coach Tim Mack and serving as a house parent for student athletes who are living and training on campus.
"This is the chance of a lifetime for all of us," says Scale. "In my case, working with Coach Mack is a game-changer for me. He's not only a world-class athlete, he knows how to develop talent, too. I'm already benefiting greatly from his experience and his mentorship."
"What COVID took away from us SPIRE was able to give back," said Crawford. "What we have here is the main thing any athlete needs, and that's stability. We work out in the same facility every day, we have scheduled time in the workout room and with the conditioning equipment, and access to some great coaches. On top of that, these facilities are the best I've ever seen. I've competed at venues all over the country, and I think what SPIRE has is the best. I think we're all really grateful for the situation we have here right now."
About SPIRE
SPIRE Institute & Academy (IA) (http://www.spireinstitute.org) is one of the largest indoor, professional training and competition complexes in the world. With more than 750,000 sq. ft. under roof and a campus of 175 acres, SPIRE has the unique capacity to simultaneously host a world-renowned sports academy, clubs, leagues, tournaments and championship events, no matter the weather or the season.
SPIRE Academy and its expert coaches, teachers and performance trainers offer residential camp and academy training programs in basketball, track and field, swimming and now in esports and drone/robotic/AI/emerging tech as well. The comprehensive mix of professional level training integrates athletics and academics, skills training and performance training and personal and career development in ways that has never been done before. High school and post grad athletes on one campus, pursuing specialty passions ranging from basketball to e-gaming, swimming to drone racing, pole vaulting or sprinting to future opportunities like culinary or cultural arts…is a career development experience that you just won't find anywhere else in the world today.
SPIRE Institute is the epitome of a 'real world lab' for professional, technical and health and wellness research. Like never before, student trainees and elite athletes will have the chance to train, study and be studied side-by-side with weekend warriors, wounded Veterans, Paralympians, Olympians and Special Olympians, as well as juniors, collegians and adults of all ages and ability levels. SPIRE is truly a melting pot of all things relative to long-term training and education development, and all of this delivered within a fun, healthy and inspiring environment. The "SPIRE Way'' focuses on the development of the whole self – building strong minds, strong bodies and strong character.