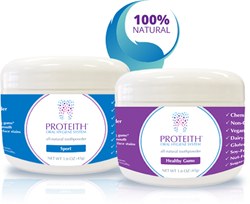 "The publication of these results validates PROTEITH Oral Hygiene System as an effective, chemical-free alternative for individuals struggling with gingivitis and other periodontal diseases."
CHARLOTTE, N.C. (PRWEB) February 05, 2019
PROTEITH Solutions Ltd, a privately held company focused on the development of its patent-pending plant-based complete protein toothpowder, has announced that results from a 14-month comparative study have been published. The data showed that PROTEITH® Oral Hygiene System is an effective option for reducing gum tissue pockets associated with plaque and periodontal disease for patients who have gingivitis.
"We're committed to advancing support for a healthier, all-in-one approach to oral healthcare," said C. Vincent Johnson, CEO of PROTEITH Solutions Ltd. "The publication of these results validates PROTEITH® Oral Hygiene System as an effective, chemical-free alternative for individuals struggling with gingivitis and other periodontal diseases."
Conducted in a private dental clinic setting in the United States, subjects were instructed to use PROTEITH® while plaque and gingivitis assessments were captured as a baseline measurement. A board-certified dentist examined all patients' gum pocket sizes in this study. The subjects' frontal and lingual gum pockets were reduced by an average of 19%, from an unhealthy level of 3.2mm to a healthy level of 2.6mm. No adverse reactions were reported nor observed with the use of PROTEITH®. A control group of patients who did not receive PROTEITH® treatment had no change in their gum pockets, with a baseline average of 3.04mm and a post-study average of 3.03mm. Complete study results available at https://www.proteith.com/wp-content/uploads/2019/01/PROTEITH-Dental-Study-January-2019.pdf.
"The results demonstrate the specific and unique effectiveness of PROTEITH® protein toothpowder on oral health. Similar results have not been reported with other all-natural toothpowders", stated Phillip Williams, DMD, West End Family Dental Clinic.
The authors also reported that:

Nearly all subjects showed moderate to significant improvements in gum pockets over time
While the duration of the intervention phases varied by weeks (Mean=41, Standard Deviation=18, Max=59, Min=15), pocket sizes were reduced to healthy levels by up to 42%
No subjects displayed statistically measurable deterioration of gum pockets
In all cases, patients reduced or maintained their gum pocket sizes to below 3mm average, commonly accepted as a healthy size
Although not quantified, patients achieved additional benefits from the use of PROTEITH®, including healed mouth sores, improved breath, reduced tooth sensitivity and removal of teeth stains
About Periodontal Disease
A study by the Center for Disease Control and Prevention determined that nearly 50% of all Americans over the age of 30 suffer from periodontal disease – a chronic inflammatory disease that affects the gum tissue and bone supporting the teeth, according to the American Academy of Periodontology. And, according to the American Dental Hygienist Association, nearly 75% of American adults suffer from various gum, teeth and mouth soft tissue issues.
About PROTEITH Solutions Ltd
Headquartered in Charlotte, NC, PROTEITH Solutions Ltd is a privately held company with a leadership team consisting of a medical and consumer advisory team, senior business leaders, physicians, and dentists. PROTEITH® has innovated a chemical-free approach to oral healthcare designed to support healthy teeth and gums in a simple and natural way. PROTEITH® is currently working with non-profits to explore the possibility of including products in freely distributed hygiene packs to the poor and homeless.
The PROTEITH® Oral Hygiene System is an all-natural formulation of plant proteins, vitamins, enzymes, minerals and antioxidants scientifically balanced to prevent periodontal disease. PROTEITH® is dentist-certified to maintain a healthy mouth for protection from gingivitis, canker sores, tartar build-up, tooth sensitivity, and bad breath. PROTEITH® users have reported the following benefits:
Stopped bleeding and receding gums*
Healed sores and cuts in the mouth
Cleaned teeth and removed surface stains
Prevented tartar buildup
Eliminated tooth sensitivity
Eliminated bad breath
*If you have periodontal disease, consult your dentist for best results.
PROTEITH® Oral Hygiene System is available in Healthy Gums and Sport formulas, and can be purchased at https://www.proteith.com. PROTEITH® offers a risk-free 100% money back guarantee.