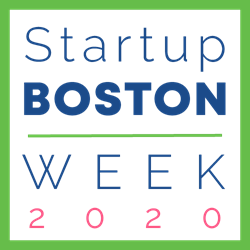 We rise to this moment by challenging norms," said Startup Boston Founder and Lead Organizer, Stephanie Roulic. "For Startup Boston, this means reimagining our conference as a virtual experience. It also means recognizing the ways that we can better support inclusion in the startup community.
BOSTON (PRWEB) September 15, 2020
What: Startup Boston Week is a celebration for the people and companies that have led to Boston's renaissance as a central hub for startup innovation. Over five days, featuring more than 200 speakers, 10 tracks and 70 free events, each day serves a specific discipline so attendees can plan their attendance according to their greatest needs.
Who: Aimed towards educating and uniting the startup community, Startup Boston Week is for entrepreneurs at every stage, from founders and c-suite to engineering and sales. Here are just some of the speakers and the topic on which they are speaking:

When: Monday, September 21 – Friday, September 25, 2020
Where: All sessions are virtual. Attendees will receive an event link after registration.
Additional Resources: http://startupbostonweek.com/schedule
Follow #SBW2020 on social media for live updates from the event.