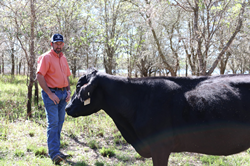 "To be elected as vice president of Florida Farm Bureau is an honor," said Johnson. "I am excited to serve our agricultural community and give back to those who have helped shape who I am and what I stand for which is Faith, Family and Farming."
GAINESVILLE, Fla. (PRWEB) October 22, 2020
The election was held during the closing general session earlier today at its virtual annual meeting. Florida Farm Bureau's State Board of Directors nominated him for the position in August.
A Hardee County native, Johnson is a citrus and cattle producer. He began his Farm Bureau career as a volunteer leader in the Young Farmers and Ranchers Leadership Group and served on the Hardee County Farm Bureau Board of Directors. He was then elected to the Florida Farm Bureau State Board of Directors where he served as secretary.
"To be elected as vice president of Florida Farm Bureau is an honor," said Johnson. "I am excited to serve our agricultural community and give back to those who have helped shape who I am and what I stand for which is Faith, Family and Farming."
Johnson graduated from Hardee High School and has a B.S. degree in Agricultural Operations Management and a minor in fruit crops from the University of Florida.
He is married to Andrea Handley Johnson. The couple have three children, BJ, Emma Jane and Lainey Kate.
Florida Farm Bureau, the state's largest general agricultural organization, represents more than 136,000 member-families. We serve to enhance farm enterprise and improve rural communities.
Photo Caption: Steve Johnson, a Hardee County citrus and cattle producer, has been elected to serve as the Vice President of the Florida Farm Bureau.