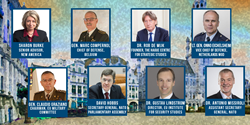 "We have heavy-hitting speakers and high-class organizations coming together in the heart of Europe...this is an event that you don't want to miss." - Stu Bradin, GSF President and CEO
BRUSSELS (PRWEB) September 17, 2019
The Global Special Operations Forces (SOF) Foundation will hold its fourth European Symposium in Brussels, Belgium, from Oct. 1-3, 2019.
The Foundation is the only professional association for the international SOF community. This non-profit organization has partnered with the Belgian Ministry of Defense to execute this three-day opportunity, which features high-level speakers, networking opportunities, and a nearly sold-out expo space for industry participation.
On Oct. 1, the European Union and NATO SOF representatives will host a joint government-only meeting in the symposium spaces, which will lend to a high level of government attendance. This is only the second such occurrence, the first happening at the Global SOF Symposium - Spain in 2018.
Conveniently located in the "heart of Europe," this is a unique opportunity to meet directly with policymakers from many NATO nations. The Symposium has confirmed representatives attending from Australia, Belgium, Denmark, France, Hungary, Italy, Lithuania, The Netherlands, Poland, Portugal, Republic of Malta, Romania, the United Kingdom, and the United States.
The "Walk Through History Welcome Reception" will also take place on Oct. 1, and will feature highlights of WWII history and milestones in Europe, unique photo opportunities, and local refreshments.
The full Symposium agenda occurs from Oct. 2-3 and features influential confirmed speakers, to include the Belgian Chief of Defense, the EU's Chairman for the Military Committee, and NATO's Assistant Secretary General for Emerging Security Challenges.
Other speakers range from the Secretary General of the NATO Parliamentary Assembly, Mr. David Hobbs, to Rob de Wijk, the founder of The Hague Centre for Strategic Studies. These speakers will address a variety of topics, such as "Military Reform and Capability Packages for Modern Warfare" and "The Role Artificial Intelligence in SOF."
As the Global SOF Foundation is a networking organization, ample time is built into the schedule to allow attendees to discuss the presentations, make introductions, and peruse the Exhibit Hall. Networking events at this Symposium will bring many new faces together.
This event also gives defense companies with capabilities relevant to European SOF the opportunity to purchase exhibit space or sponsorship opportunities, all of which are detailed on the event website. In addition to over 30 confirmed exhibitors, this year's sponsoring companies include:

Platinum: Airbus and Crisis Response Company
Gold: Expedition Aviation
Silver: DSG Technologies and FN Herstal
Bronze: JFD Global
Welcome Reception, Lanyards, and Room Keys: Huntington Ingalls Industries
Belgian Beer: Skydweller Aero
Coffee Break and Program Guide: Cubic Mission Solutions
WiFi: Klas Telecom
Signage: Tampa Microwave
Many of these companies are also Global SOF Foundation Corporate Partners that continue to contribute to the international SOF community.
Don't miss this rare opportunity to join the global SOF community in Brussels, Belgium, open to members of the Press from Oct. 2-3, 2019. Register today at http://bit.ly/19belpr.
The Global Special Operations Forces (SOF) Foundation (GSF) is a 501(c)(3) non-profit organization that aims to build and grow an international network of military, government, commercial, and educational stakeholders in order to advance SOF capabilities and partnerships to confront global and networked threats.