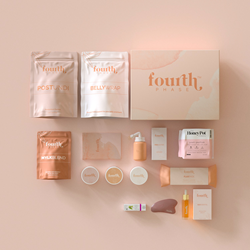 So often we focus on the pregnancy and the health of the baby—which is of the utmost importance—but society typically neglects the mental, physical and emotional wellbeing of new mothers
NEW YORK (PRWEB) March 03, 2021
The three trimesters that encapsulate the full term of pregnancy are important milestones in a woman's life. But what happens during the least discussed "fourth trimester" when a mother's mind and body requires healing from her birthing process? With this question in mind, and in support of new mothers around the world, Fourth Phase Afterbirth Boxes were created by two African American women to help mothers heal, feel and be heard. Depending on her delivery method, a new mom can receive a Fourth Phase Vaginal Birth Box or a Fourth Phase Belly Birth Box to assist in her body's repair. Each box is filled with Organic, Non-Toxic, Phthalate-free, Cruelty-Free and Sustainably Sourced products from all over the world. New moms will receive 11-12 Fourth Phase and other women-owned brands that tap into holistic methodologies for the full restoration of a new mom's body and mind during this pivotal time in her life.
Fourth Phase Afterbirth Boxes not only support a new mom who purchases the box for herself or receives it as a gift from a loved one, but each box purchased allows Fourth Phase to donate similar afterbirth care products to new mothers experiencing homelessness in the U.S., as well as new mothers in Sub-Saharan Africa via charitable partners, Passion Meets Purpose and African Health Now.
Fourth Phase Afterbirth Box is the brainchild of Nana Eyeson-Akiwowo and Marcia A. Cole, two friends and former magazine and digital editors also known for their philanthropic work. The idea for the Fourth Phase Afterbirth Box was born during Nana's annual charity mission to Ghana. There, she witnessed the lack of postnatal attention being paid to new mothers in her homeland and vowed to do something about it. "So often we focus on the pregnancy and the health of the baby—which is of the utmost importance—but society typically neglects the mental, physical and emotional wellbeing of new mothers," shares Eyeson-Akiwowo. "Unfortunately, this happens to mothers across the world and it has to stop."
Cole, a serial entrepreneur, understood this all too well. Informed by her work with women in New York City homeless shelters, she joined Eyeson-Akiwowo as co-founder of Fourth Phase. "For years I have been working with women in shelters by providing sanitary products, coaching and beauty services so I completely understood the need in that segment of society. Fourth Phase is a wonderful extension of the work I was already doing," she says. Coming together with Nana to launch Fourth Phase taps our collective expertise and talents to be in greater service to women in ways often not recognized. Bringing Phase to market provides the perfect opportunity to combine my three passions—startups, helping women, and giving back to my community."
Fourth Phase offers two boxes—Vaginal Birth Box ($165) or a Belly Birth Box ($150), for mothers who had a surgical birth. Each box is curated with 11-12 products designed to help new moms heal from her specific birthing experience. All products are Organic, free from phthalates, non-toxic, cruelty-free and are sustainably sourced.
The Fourth Phase Afterbirth Boxes are available for pre-sale on March 1, 2021, with shipping scheduled for March 21, 2021. Visit http://www.fourthphasebox.com to learn more and select a box.
ABOUT FOURTH PHASE
Fourth Phase, a one for one afterbirth care box was created by co-founders Nana Eyeson-Akiwowo and Marcia A. Cole to help new mothers heal, feel, and be heard. The Black-owned, woman-led company supports new moms globally who have given birth either vaginally or surgically with a curated Fourth Phase Afterbirth Box of Certified Organic, phthalates free, non-toxic, cruelty-free, sustainably sourced products. Through the Fourth Phase website, women are provided real-life stories from new moms, and vetted advice from Doulas, Midwives and OBGYNs.