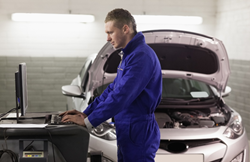 At Fox Toyota, the service department hours have been scaled back.
CLINTON, Tenn. (PRWEB) April 21, 2020
The coronavirus has shaken up the country. As a result, many businesses have had to close, limit hours or change the way it does business. At Fox Toyota, the service department hours have been scaled back. It will now be open from 7 a.m. until 3 p.m. Monday through Friday. The weekend hours will remain at 7 a.m. until 12 p.m. on Saturdays and closed on Sundays.
Customers who are looking for a new vehicle can do so from the comfort of home. Individuals can browse the dealership's current inventory online. If the person finds a vehicle that he or she wishes to test drive, the person should call the dealership and schedule an appointment. Finally, if the interested party wishes to purchase the vehicle, the sale can be completed remotely.
The showroom at Fox Toyota will continue to be open and the hours will remain the same. There are a few new procedures that have been put in place. The team members have been more frequently washing hands, not touching their faces and avoiding people that are sick. In addition, any employees that are not feeling well are being asked to stay home.
Fox Toyota has worked hard at earning the trust of its customers through the years by treating every guest like family. As a dealership that has been family owned and operated for over seventy years, it prides itself on providing quality customer service.
Individuals that would like to schedule a service appointment or browse the current inventory available at Fox Toyota can visit https://www.foxtoyotaclinton.com/. The dealership can be reached by phone at 865-259-7686. Finally, for those that wish to visit the dealership in person, it is conveniently located at 288 Fox Family Lane in Clinton.