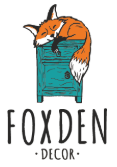 CANUTILLO, Texas (PRWEB) November 08, 2018
FoxDen Decor (http://foxdendecor.com), the popular online retailer of custom rustic and reclaimed wood furniture, has reduced its order lead time dramatically.
"Orders now just take 2-3 weeks," says company spokesperson Jami Stewart. "Previously, orders took 6-8 weeks. Our new lead time is the result of our continued ability to improv our process and expand our services, thanks to ongoing growth as more and more people demand FoxDen Decor in their homes."
FoxDen's new, reduced order time does not impact the quality of each hand-crafted piece. Custom orders are still hand built and made from scratch. Customers may also still choose the hardware and finishes of each piece, ensuring that they get exactly what they want, just sooner than ever before.
To see how customers have enjoyed their FoxDen Decor orders, visit the customer gallery.
To learn more about FoxDen Decor, visit the company online at foxdenboutique.com/shop.
About FoxDen Boutique
We offer a great selection of all-wood furniture with styles ranging from reclaimed, door top, rustic, painted, cedar, barnwood and much more. A sister company to our popular FoxDen Decor brand, the boutique features our most popular and in-demand styles.
Contact Details:
Jami Stewart
7142 La Junta
Canutillo, TX 79835
Phone: 1-888-666-1113
Source: FoxDen Boutique