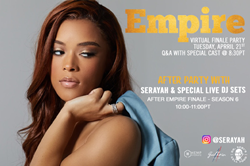 LOS ANGELES, Calif. (PRWEB) April 30, 2020
The highly provocative and popular television show Empire is coming to an end after six wild and jaw-dropping seasons, and one of its most popular characters has been celebrating its final run by hosting watch parties on Instagram Live.
Actress, model, and singer Serayah, known for her fan-favorite role as singer Tiana Brown on Empire, has been hosting watch parties, inviting her 1.8 million Instagram followers to join her on Instagram Live for the Tuesday night airing of certain episodes.
The watch parties have proven to be lively, entertaining, and informative, featuring a rotating cast of friends, impromptu product spotlights, and humorous running commentary. On April 14, 2020, Serayah was joined by castmate Ta'Rhonda Jones (Porsha Taylor on the series) and gave a surprise shout-out to Dr. Sebi's Cell Food, showing her appreciation for the brand's "Stress Relief Herbal Tea."
Impressed with the product, Serayah followed up with a brief tutorial on Instagram Stories, posting "Bout to seep some @DrSebiCellFood and I'm really excited!" before giving viewers an intimate look into how she likes to prepare her very own morning cup of Dr. Sebi's Cell Food Stress Relief Herbal Tea.
For images of the Serayah watch party on Instagram Live, product requests, or media inquiries, please contact MindMedium Agency at press@mmcagency.co.
Contact
Name: Andrew Pogany
Company: MindMedium Agency
Email: press@mmcagency.co
Phone: +1 323 465 2787
About: Serayah
Serayah McNeill, also known as Serayah, is an American actress, model and singer, best known for her role as singer Tiana Brown on the television show Empire. The multi-talented native of Southern California will be releasing her first EP, Ray, in June. Follow her at https://www.serayah.love/ and on Instagram @serayah.
About: Dr. Sebi's Cell Food
Dr. Sebi's Cell Food is a distinguished producer of plant-based supplements for those seeking positive pathways to mental and physical rejuvenation. We offer natural botanical compounds that cleanse and detoxify the body, based on the formulations of our founder, Dr. Sebi. Born in 1933 in Honduras, Dr. Sebi never attended formal school, but studied herbs from around the globe and their effects on the body. He began creating natural plant-based compounds meant to cleanse and revitalize the cells. This led to the establishment of Dr. Sebi's Cell Food, which has, for the last thirty years, continued Dr. Sebi's commitment to providing natural alternatives to help people heal, hope, and love themselves. Join us at drsebiscellfood.com and Instagram at @drsebiscellfood.