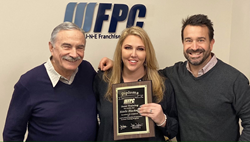 My admiration for FPC's company initiatives, training program, internal network, and values have empowered me to think like an owner, and then become one!
NEW YORK (PRWEB) January 09, 2020
F-O-R-T-U-N-E Personnel Consultants (FPC) a nationwide network of 65 franchised executive recruitment offices, announced the opening of FPC Bellwood. Owned by Shelly Blackman, FPC Bellwood will specialize in Distribution, Manufacturing, Supply Chain, and Business Development Roles.
Shelly brings eight years of military service in the United States Marine Corps, followed by over 10 years of senior leadership experience from manufacturing and distribution roles. She started her Executive Recruiting career in 2017, and has been a top performer, earning Rookie of the Year and Platinum Elite honors. Shelly will be responsible for projects that include executive search, custom talent acquisition projects, talent pipeline assessment and management, hiring process evaluation, process mapping and succession planning.
Shelly has her Bachelors in Business Administration from American Military University, and her MBA from American InterContinental University. She also has her Six Sigma Green Belt certification.
On why she chose to continue her career in the FPC network Shelly says "My admiration for FPC's company initiatives, training program, internal network, and values have empowered me to think like an owner, and then become one! I will continue to build a strong foundation that Jeff Herzog has already established Nationwide. I am excited to be a part of FPC's growth and innovation. I will use my military structure, my Fortune 500 accountability, and my 3PL flexibility to build and maintain partnerships within every organization. At FPC Bellwood, we Place People First!"
"We are thrilled to have Shelly as a managing partner in the FPC family. She has been a strong advocate for the FPC brand, and our #1 interoffice Exchange partner. Her background along with a continued commitment to the FPC brand, extensive military network, engaging personality, passion, energy and personal drive will be an important asset to companies looking to add talent in the Distribution, Logistics, Supply Chain and Operations Leadership space. Companies will be able to leverage her extensive experience, contacts and knowledge. Her passion for process improvement, efficiency and speed to market will continue to be a perfect complement to the rest of our franchise system." said Jeff Herzog, President of FFC, the franchisor of FPC.
Contact FPC Bellwood at 912-244-0812, via email at shelly@fpcbellwood.com, LinkedIn, or visit http://www.fpcbellwood.com.
About FPC
FPC is a leading national executive search firm comprised of more than 65 franchised offices. FPC offers job seekers access to its nationwide network of professional executive recruiters and job opportunities in many industries and disciplines as well as providing job search information and assistance. The company has been providing win-win recruiting solutions since 1959. Advocates for both clients and candidates, FPC recruiters are committed to bringing together the right individual with the right opportunity. For further information about FPC, call 800-886-7839 or visit us at http://www.fpcnational.com.