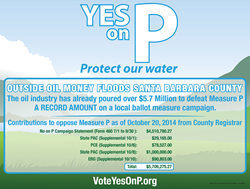 ...voters need to see through the misinformation campaign being waged by oil companies and consider the real threat to our county from expansion in extreme and polluting oil extraction techniques. ~State Senator Hannah Beth Jackson
Santa Barbara, CA (PRWEB) October 21, 2014
According to the Santa Barbara County Registrar, the oil industry has already poured over $5.7 million into Santa Barbara County to oppose Measure P, the Healthy Air & Water initiative to ban fracking, acidizing and steam injection. Most of it has come from a political action committee that is largely funded by Chevron, AERA Energy, Occidental and Freeport McMoRan.*
In stark contrast, Measure P proponents have raised about $300,000 from hundreds of mostly local individuals and volunteers including teachers, farmers, doctors, students, parents and other county residents.
>> Facts about Measure P and nationwide spending on local ballot measures:

Santa Barbara County residents, volunteers and local community leaders are pushing back to try to counter the onslaught of oil money and misinformation.
"What's going on in Santa Barbara County is unprecedented. The millions of dollars of outside money being spent against Measure P are an order of magnitude greater than has ever been spent against a local ballot measure here. County voters need to see through the misinformation campaign being waged by oil companies and consider the real threat to our county from expansion in extreme and polluting oil extraction techniques."
-- State Senator Hannah Beth Jackson
"The U.S. Energy Information Agency has estimated six hundred million barrels of recoverable oil remain locked up in California's Monterey Formation; industry estimates run into the billions of barrels. That same formation underlies much of Santa Barbara County and has produced most of our county's oil. The problem is that the oil is locked up in tight rocks. To get the oil out, risky techniques like cyclic steam injection and even horizontal fracking will be needed. All the easy oil, the low hanging fruit, is long gone. Extraordinary measures are needed to expand production – businesses will go out on a flimsy limb to access it. Fracking of the Monterey has been done in counties bordering ours. We will not be exempt. I foresee uncontrolled industrial havoc in our County. We need Measure P to forestall this."
-- Bruce Luyendyk, Former Chair, UCSB Geology Department, Former Dean of Science, UCSB
"Time and time again opponents of initiatives make false claims that they are 'poorly written' or 'imperfect' and they threaten litigation hell if the measures pass. It is a tactic used by those who are afraid they can't win at the ballot box, as in the case of Measure P. As a long time teacher of environmental law, I think that Measure P is one of the most well-crafted and crucial local environmental initiatives that I have seen. It was carefully crafted by a team of outstanding environmental lawyers in order to address local conditions in order to protect the public health, safety and welfare of people living in Santa Barbara County. Its passage will also provide vital impetus to the growing movement to address the threat of radical climate change due to excessive carbon emissions into the atmosphere. I urge voters to Please vote yes on Measure P."
-- Marc McGinnes, Founding Director of the Community Environmental Council and the Environmental Defense Center; Senior Lecturer Emeritus, UCSB Environmental Studies Program.
*Sources: Oil industry front group State PAC (Californians For Energy Independence, Including Energy Producers) funneling most of the money to No on P.
>> From Santa Barbara County Registrars office:
Contributions as of 10/20/14 from the Santa Barbara County Registrar Amount
No on P Campaign Statement (Form 460 - 7/1 to 9/30): $4,510,780.27
State PAC (Supplemental 10/1): $29,165.00
PCE (Supplemental 10/6): $78,527.00
State PAC (Supplemental 10/8): $1,000,000.00
ERG (Supplemental 10/10): $90,803.00
Total: $5,709,275.27
Background on Measure P
At stake are oil companies plans for thousands of new wells in the County using new, water and energy-intensive oil extraction techniques that have devastated communities elsewhere -- and a grassroots, largely volunteer "Yes on Measure P" effort to stop it via the ballot.
New Video released by Yes on Measure P campaign by Director Mark Manning, documentary film-maker of "The Road to Fallujah," on the battle over Measure P in Santa Barbara County.
Measure P Protects Santa Barbara County from the many possible threats posed by extreme oil extraction, including contaminating clean air and water. For more information about who has endorsed Measure P and important facts about it, visit http://www.VoteYesOnP.org or contact Laura Capps at lauraburtoncapps(at)gmail(dot)com or 805-245-5465.