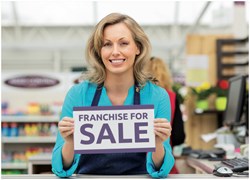 I've never seen such a huge influx in franchise re-sales like this in all my 20 years in the franchise business
Sarasota, FL (PRWEB) September 04, 2013
Franchiseresales.com, the only marketplace on the web dedicated to the resale of existing franchised businesses, announces that this is the perfect time to buy or sell a franchise. A few key factors are putting franchise re-sales on the rise in 2013.
A lot has happened over the past several years in America, and it has all accumulated to create this time of incredible opportunity for entrepreneurs and small business owners. Availability of funds, ageing franchise owner base and overall confidence in the improving economic climate in the US has made franchise re-sales a sure target for many savvy business buyers.
With 8,000 people in the United States turning 65 everyday, there is currently a huge rise in franchise sellers. A large base of past franchise owners, consisting of over 100,000 businesses, has been nearing the retirement age and are beginning the transition into retirement. Many of these long-time owners, not having any family to take over their business, have put their franchises on the market to be sold, publically or privately. These franchises are solid, branded, well-established businesses located in heavily-populated areas.
Conversely there are many retirees hitting the mandatory retirement age and leaving their long-time office jobs. However, many are not really ready to retire to a life of leisure. This wave of experienced business people have been branded as "young-minded retirees" and are looking for a small business to take on for the next ten years, and are turning to franchise ownership.
As Nancy Estep-Critchett, owner of Franchise Resales explains, "the economic storm America has weathered seems to be over, and many small, franchised businesses that survived are now available. For a motivated, savvy operator that is looking for a great deal and can turn-around a failing or break-even opportunity, a franchise re-sale is the perfect option." Franchise re-sales can be purchased at a fraction of the cost of opening a brand new franchise, and with the national brand attached there is ample opportunity big promise of being very profitable.
Franchiseresales.com is the best place to find any and all expert information on franchises.
About Franchiseresales.com
Franchiseresales.com is the only marketplace on the web dedicated to the resale of existing franchised businesses. Franchiseresales has all the knowledge for buyers, sellers, investors or those simply interested in learning more about buying a resale. For more information on buying, selling, investing in, or legal information regarding franchises, visit http://www.franchiseresales.com.
Contact Founder Nancy Estep-Critchett at nancy(at)franchiseresales(dot)com