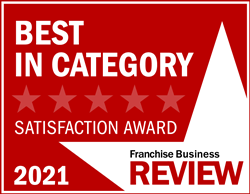 "Our independent research identifies only those companies that demonstrate the highest levels of satisfaction and performance. This year's Franchisee Satisfaction Award winners are truly the best-of-the-best."
BOSTON (PRWEB) March 25, 2021
MaidPro announces that it has been named #3 Top Franchise to Own in Franchise Business Review's 2021 Top Franchises Report. MaidPro is the recipient of two of the top awards from the market research firm, including the #3 Top Franchise to Own and Best-in-Category.
"Like most business owners, MaidPro franchisees faced a series of unprecedented challenges in 2020," says MaidPro CEO Mark Kushinsky. "Yet they found innovative ways to adjust and thrive. This award is a testament to our franchisees and the loyal customers they serve—we are honored to receive this acknowledgment."
Each year, Franchise Business Review honors franchise owners who demonstrate excellence in training & support, operations, franchisee relations, fiscal achievement, and overall success within the franchise model. This year, Maid Pro was distinguished amongst more than 28,000 franchise owners representing over 300 unique brands.
"There are thousands of successful franchise companies operating in North America," said Eric Stites, CEO of Franchise Business Review. "But many of those companies do not offer a solid investment opportunity for franchise owners. Our independent research identifies only those companies that demonstrate the highest levels of satisfaction and performance. This year's Franchisee Satisfaction Award winners are truly the best-of-the-best."
Franchise Business Review performs independent surveys of franchisee satisfaction and provides rankings and awards based solely on actual franchisee satisfaction and performance. The results of this research are published in the firm's annual Guide to Today's Top Franchises.
To view the complete list of the 16th Annual 200 Best Franchisee Awards recipients, visit https://franchisebusinessreview.com/page/top-franchises/.
About MaidPro
MaidPro is a Boston-based franchisor of house cleaning services with over 285 locations in 38 states, the District of Columbia, and Canada. The company, which began franchising in 1997, takes pride in its strong owner community, cutting-edge technology, and creative marketing. It has been honored with the Franchise Business Review's Four-Star Rating and Franchise 50 awards every year from 2006 to 2021 for owner satisfaction. MaidPro has been named a Top Franchise by Forbes, Entrepreneur, and USA Today. MaidPro is also a proud member of the International Franchise Association, Canadian Franchise Association, and the New England Franchise Association.