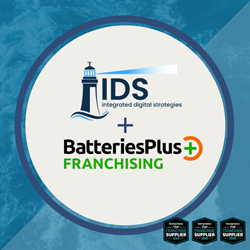 AMESBURY, Mass. (PRWEB) May 20, 2021
Integrated Digital Strategies (IDS), a nationally recognized digital marketing firm specializing in campaigns for established and emerging franchise brands, has added Batteries Plus to its expanding list of top-tier clients that includes stalwarts like American Family Care, Jack-in-the-Box, U.S. Lawns, and more. With over 700 locations across the country, Batteries Plus turned to IDS to build a franchise website that would speak more clearly about their offering and reach high-end investors. Now in its tenth year, IDS's growth has been the result of a two-pronged approach: keeping clients happy and making sure they see a healthy ROI, and Batteries Plus can expect to benefit from that philosophy.
"We always try to operate as an extension of our client's team," says Steve Galligan, co-founder, and CEO at IDS. "That way, we're not only better able to anticipate their needs but truly have a vested interest in their success. It's really the way we like to do business."
Prior to partnering with IDS, Batteries Plus, a name that specializes in electronics sales and repairs, was struggling to get more potential investors to recognize them as a franchise opportunity. Their franchise development site was underwhelming, lacking rich, SEO-optimized content, and featured images that simply didn't speak to the people behind the brand.
"We brought some humanity to their digital messaging," says IDS senior account manager Vern Nicholson about his client's site. "Batteries Plus saw continued success in the franchise space and our goal has been to simply amplify that existing brand authority."
With that in mind, the IDS team did a website audit to identify gaps and opportunities, developed personas of the brand's best customers, and redesigned the site to include content, colors, and images that spoke to their value propositions and the respect and recognition the brand enjoys. IDS's continued involvement will consist of monthly blogs, quarterly downloads, and regular social postings, among other regular deliverables.
The care and attention IDS pays to every client, and every project has meant the agency being singled out three years running as a top choice for franchise marketing by Entrepreneur Magazine. Whether it be an emerging or an established brand, IDS excels at managing all aspects of a company's franchise digital marketing needs and specializes in strategies that engage and convert. Their suite of services includes franchise sales management and development, as well as franchisee marketing, and stretches across a wide spectrum of industries that includes healthcare, wellness, hospitality, technology, home and life, and much more.
"Franchise digital marketing is as much an art as it is a science," says Joseph Mohay, IDS co-founder and CRO. "We pride ourselves as being an all-inclusive resource for franchise brands, helping them navigate a complex landscape and getting them in front of more people more of the time."
For more information about IDS and its suite of services, reach out to Steve Galligan: (steve@idigitalstrategies.com, 978-828-0084)