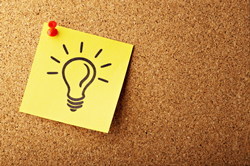 "We hope people download the Spotify App, listen to MasterMind Minutes, and if they take away just one small nugget of information that helps their business, then we've done our job."
NEW YORK (PRWEB) June 09, 2020
Franchise Growth Solutions announced today the company had launched a new Podcast – MasterMind Minutes. The Podcast (that also runs a full video version on YouTube) is available on Spotify.
Franchise Growth Solutions founder Gary Occhiogrosso said, "MasterMind Minutes is committed to education and sharing experiences that help small business and franchise owners grow their business, serve their community and increase profits."
The concept and format for MasterMind Minutes are simple. Each episode runs about 15 minutes and features one guest. The expert guest is asked only one question and gives one answer. Listeners are then encouraged to reach out directly to guests after the program's conclusion. Contact information for each guest is provided within the program and posted on the various platforms carrying the program
Occhiogrosso stated: "To date, our first ten-episodes, released initially on LinkedIn six weeks ago, brought our followers to over 6600." However, there are an additional 75,000 subscribers to http://www.franchisemoneymaker.com, the online franchise, and small business magazine which also carries the program.
MasterMind Minutes was conceived as a webcast in March 2020. Occhiogrosso started his career as a radio broadcaster and recently hosted the "Franchise & Small Business" radio show on AM970 in New York City.
Mr. Occhiogrosso said he was frustrated when watching and listening to folks in the franchise and business community attempting to conduct online webcasts.
Occhiogrosso stated, "The idea of sharing information, knowledge, and experience to struggling small business owners, franchisees and franchisors was crucial at the time, but many of these webcasts had no focus. Many of the "hosts" often didn't understand their role as a curator. They had too many guests; some would have 12 to 20 people simultaneously on a Zoom meeting, all trying to talk over each other. In my opinion, many of them lasted too long; some were 60 to 90 minutes in length! I didn't think this was the best way to discuss essential topics borne out of the Covid19 crisis. At that time, people were running around just trying to survive, working long hours, no one has that kind of time to sit in front of their computer and listen to that. It certainly didn't work for me, and it didn't work for a lot of other people I spoke with."
MasterMind Minutes is now available on Spotify and has evolved beyond its original intent to deal with questions connected to the pandemic. As popularity for the Podcast grows, the subject matter deals with issues relevant to entrepreneurs, business owners, and emerging franchise brands, an arena Occhiogrosso has played in for over 30 years.
Occhiogrosso concluded with: "We hope people download the Spotify App, listen to MasterMind Minutes, and if they take away just one small nugget of information that helps their business, then we've done our job."
About MasterMind Minutes
Mastermind Minutes is a Webcast/Podcast created to offer relevant information affecting business owners and Franchisors in "bite-sized pieces'. One Guest - One Question- One Expert Answer in Minutes Not Hours.
About Franchise Growth Solutions.
Franchise Growth Solutions LLC (FGS), is a New York-based strategic marketing and franchise development and sales organization run by franchise industry veteran, Gary Occhiogrosso. Mr. Occhiogrosso was instrumental in the successful launches of nationally recognized brands such as Ranch *1, Desert Moon Fresh Mexican Grille, and multi-brand franchisor, TRUFOODS, LLC.
FGS is a Supplier member in the International Franchise Association and routinely introduces the hottest new franchise opportunities to business-seeking entrepreneurs and multi-unit franchise developers.
For more information on franchising, please contact Mr. Occhiogrosso at Franchise Growth Solutions, 917.991.2465, or via email at info@frangrow.com.