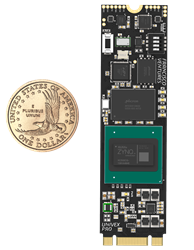 UNIVEX™ computer is embedded on top of M.2 2280 supported hardware and transforms a target host into a secure platform
HERZLIYA, Israel (PRWEB) March 04, 2021
Francisco Ventures™, a cyber security firm specializing in the development and manufacturing of innovative technologies, is introducing the new UNIVEX™ series, a state-of-the-art secure computer platform with unique hardware capabilities and exemplary security features, all in a common form factor and with wide compatibility.
The embeddable UNIVEX™ series integrates a powerful Xilinx® MPSOC Ultrascale+ core for secure, high performance design flexibility and unique protection, combining physical sensors with top-notch security elements. These rich features create a complete, isolated and secure embedded computer in a tiny M.2 2280 card which is ready for integration and deployment. Typical host systems for UNIVEX™ include laptop, tablet, server, motherboards and embedded computers, where a PCIe-based NVMe® solid state drive (SSD) is typically supported.
The UNIVEX™ series was designed to operate as a complete and isolated hardware based secure computer system, thus making UNIVEX™ a powerful platform to develop and run multiple operating systems, security applications, store sensitive information, provide high identity protection, create a hardware based VPN tunnel from anywhere and even implement a complete RISC-V CPU over the powerful Xilinx FPGA Core.
The UNIVEX™ computer protects the authenticity, integrity and confidentiality of data and communication. The UNIVEX™ is loaded with unique hardware security elements and a built-in tamper proof design which combats the most complex cyber challenges. In addition, the Xilinx FPGA provides a powerful hardware platform to develop hardware-based solutions for unlimited security applications.
The UNIVEX™computer is embedded on top of M.2 2280 supported hardware and transforms a target host into a secure platform. In order to address challenges from increasingly sophisticated attacks, the UNIVEX™ deeply integrates hardware, firmware and software - to ensure enhanced security for devices, identity and data. These capabilities are crucial in a threatening landscape where attackers are often compromising a PC in their attempt to access sensitive data and identity.
The UNIVEX™ UN10X series is offered in a standard form factor (22mm x 80mm) card. This card is ready for integration into a host computing device with a compatible M.2 2280 slot.
UNIVEX™ UN10X series is an ideal choice for military or commercial uses, by adding its isolated and secure hardware platform on top of target hosts, and can be provided in two unique versions:
UNIVEX™ UN10X S - Dual Core
UNIVEX™ UN10X PRO - Quad Core
Key highlights of UNIVEX™ UN10X include:
Xilinx® MPSOC Ultrascale+ Dual or Quad Core versions
Advanced Hardware Security Elements & Anti-tampering Capabilities
Widely Compatible M.2 2280 form factor which is commonly found on the motherboards of laptops, tablets and other computing platforms
A Development Kit - which enables custom software & FPGA development
"The new UNIVEX™ series opens up unlimited possibilities for the entire cyber security industry" stated Mr. Shahar Mor, founder of Francisco Ventures™ . "Our team strives to enable our customers to do more with less, and to push the boundaries with a state-of-the-art technologies."
About Francisco Ventures™:
Francisco Ventures™ is a company committed to developing state-of-the-art platforms which push the limits of cyber security, engineering, small form factor and low power consumption. In addition to development of secure platforms and engineering expertise, Francisco Ventures™ develops innovative products that run on these platforms for both commercial and government applications. For more information regarding these innovative products and design services, please visit: https://francisco.ventures