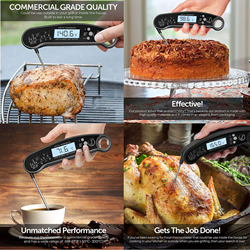 ROCHESTER, N.Y. (PRWEB) October 27, 2018
A meat thermometer is a widely used instrument used in the kitchen to measure the internal temperature of meat, bread, steaks and other cooked foods. Food is "done" when it is heated to the desired temperature, a thermometer reading is used to indicate this temperature. For mostly health reasons, the meat thermometer is used to ensure that food is cooked to a temperature sufficient to kill pathogens that may cause foodborne illnesses.
Though there are many different products in the markets today, many buyers remain unsatisfied with the efficacy of these products. Most meat thermometers does not have the features promised by its manufacturers. A vast majority of these products are either difficult to use, inaccurate or short-lived.
Franeli, a rapidly growing electronic Company recently released their highly anticipated Digital Instant Read Meat Thermometer. This groundbreaking product is the only pathogen-killing Meat Thermometer in the market with the highest industrial standard, which means that it meets all the criteria specified by the industry for standard functioning and usage.
The high accuracy and durability of this meat thermometer makes it unique among other products in today's market. The Digital Instant Read Meat Thermometer is built with cutting edge technology and a trade mark of quality. It is highly accurate, strong, easy to use and easy to read at night with its Bright Large LCD readout.
"We've always recognized the health benefits of using meat thermometer, but it is disappointing to see many fake products in the market," said Francisco Restitullo, founder of Franeli. "More often than not people replace a bad product soon after it's been bought without getting full value for their money. We built Digital Instant Read Meat Thermometer to bring to the public a product that has unmatched performance and high efficiency."
Digital Instant Read Meat Thermometer by Franeli stands out from the rest in many different ways. It can read a wide range of food temperature of -58℉-572℉ (-50°C- 300°C) thereby covering every possible temperature required for any food to get cooked. It is built with highly water-resistant and heat resistant materials, hence the meat thermometer is suitable both indoors and outdoors, for instance when drilling a barbeque. Even more, it has an Internal Meat Temperature Guide.
Franeli's thermometer totally removes the need for users to replace product frequently. It is the last thermometer any user may have to buy. Unlike other products, this thermometer has a greater longevity because of its commercial grade quality. Besides the high precision of Digital Instant Read Meat Thermometer, the speed is second to none. It has the highest response time of 2-4 seconds. The black and beautifully designed product has a 5-inch long collapsible Antibacterial stainless steel probe.
"Our main goal with the Digital Instant Read Meat Thermometer was to showcase the health benefits of using the product," said Restitullo. "We wanted to show how a high quality meat thermometer can help people live a healthier life, and we're quickly achieving this."
Digital Instant Read Meat Thermometer has just been released on Amazon.com. To celebrate, Franeli is giving away a special and limited offers to its customers so that they can grab this innovative kitchen product at the lowest possible launch price. To get yours now, visit franelifoodthermometer.info The product is very limited in supply, hurry now while it lasts.