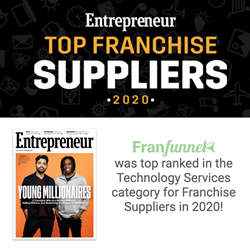 What allows our brand to compete is a fierce commitment to simply making our customers' lives easier and nothing else. --Eli Robinson, GM, FranFunnel
NEW YORK (PRWEB) September 10, 2020
FranFunnel, the franchise industry's preeminent messaging platform for franchise development professionals, has been voted a top supplier in Entrepreneur Magazine's Top Franchise Suppliers list.
To determine the Top Franchise Suppliers, Entrepreneur surveyed over 700 franchisors, from emerging brands to legacy organizations, to find out how satisfied they were with their suppliers. The magazine asked the franchisors to state which suppliers they work with, and also to rate their satisfaction with the quality, cost, and value delivered by each supplier.
FranFunnel was voted a top Franchise Supplier for "Technology Services," including CRM, operations, sales, and accounting systems. Size wise, there's nothing remotely close to their brand on this list. Salesforce (#1) is one of the biggest organizations in the world. Franconnect (#2) is a private equity backed multinational organization. And many of the other top brands are publicly traded companies.
FranFunnel is a three year old startup with fewer than ten employees. Despite major companies serving the same market, they prove there is no reason a scrappy startup can't be a top player.
"This is the type of recognition we appreciate most as it means that our customers care intensely about what we do," said Eli Robinson, GM of FranFunnel. "Some of the other players in the market make very complicated software in an attempt to do a lot of things, and because of that, they fall into the master of none trap. What allows our brand to compete is a fierce commitment to simply making our customers' lives easier and nothing else."
FranFunnel's singular focus likely helped them beat out massive technology companies, such as Zoho, Mindbody and HubSpot.
FranFunnel has made a name for itself by understanding the intricacies of franchise sales and honing personal and tech forward approach that compels potential franchisees to take action. Many FranFunnel clients credit the performance of their franchise portfolio in part to the supplier.
"Prior to using FranFunnel, I was skeptical on where texting fit into the entire sales process. But we quickly learned it's better than cold calling or email campaigns," said their client, Elizabeth Hawkins, Director of Franchise Marketing for PuroClean. "The ability to communicate like a human being, that's what customers want to do business with. FranFunnel is simple, easy to use, and seamlessly integrates with our other business systems."
FranFunnel's Platform Lead, Eli Rosenthal, says that this ranking reflects years of work building and refining the company's suite of products designed to help franchises through every phase of their growth. "We're constantly communicating with our customers, and they love what we do. The recognition as a top tech partner of choice validates our unique approach, and our commitment to automation. We have to thank our clients who not only voted for FranFunnel, but who put their trust in us as their messaging partner."
ABOUT FRANFUNNEL
FranFunnel's innovative engineering has attracted a growing roster of faithful clients like Smoothie King, Massage Envy, SportClips and franchise powerhouse Focus Brands. From Cinnabon to Meineke to Auntie Anne's, the biggest franchise brands in the country are upgrading their sales toolkit with FranFunnel to pursue efficient text messaging. Their revenue has increased 15x since 2017, and with 1m+ texts sent and received through their app since launch, they're poised to lead the messaging revolution into the next decade, both within the franchising industry and beyond.