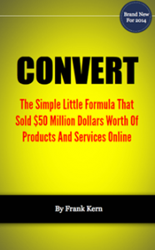 La Jolla, CA (PRWEB) March 07, 2014
Frank Kern is one of the most successful internet marketers and has written a new book to share the strategies and techniques that have made him millions of dollars. The book was designed to be a field guide for anyone in any industry looking to create internet campaigns that successfully sell products. Frank uses his formula for his three internet businesses (a publishing company, a consulting firm, and a professional services practice) which have generated over two million dollars in sales in the past forty five days.
The book contains just seventy five pages and only requires a few hours to read cover to cover. Frank Kern skips all the filler and fluff and just presents exactly what to do, how to do it, and why; making for an easy to read and straightforward book. Also, included in the book are many tips and tricks that Frank has learned throughout his career so readers don't have experience the same mistakes he made. A few strategies and techniques covered in the book show how to take over a market, how to increase profits and sales without increasing spending, and how to increase demand for a product.
All readers will be able to easily understand his method which nets Frank Kern an average of forty eight thousand dollars A DAY. Moreover, readers learn how they can dominate their marketplace in a matter of days by utilizing the mistakes of their competitors. Additionally, Frank Kern shares a breakthrough tactic that generates instant trust with prospective buyers. Many businesses struggle to sustain profitability but with the help of this field guide owners can learn the three simple steps needed to increase their profits. One of the biggest advantages of this book is that many of the strategies can be easily implemented and do not require spending any additional money.
CONVERT offers a lot more than just implementation strategies that increase revenues for businesses. Inside Frank Kern also shares some common misconceptions about current practices which are no longer efficient. For example, every marketer believes that they should be using testimonials to increase sales but Frank shares an alternative method he has used over the last four years which has resulted in more sales that ever. The book offers a lot more than just Frank Kern's methods for internet marketing success and every page divulges unique information that has been successful for him.
Exclusive to this book are Frank Kern's genuine success secrets. Included in these secrets is a unique way to get buyers from social media and by investing over three hundred thousand dollars into social media advertising Frank has exposed the one strategy for a successful social media campaign. In addition, he shares a tip for the fastest way to make someone want a product just by never mentioning the product. The book is full of proven, real-world, strategies and tactics that are working right now in internet marketing.
To read more about what this book has to offer and to get a free copy while supplies last visit the webpage here: CONVERT: The Simple Little Formula That Sold $50 Million Dollars Worth of Products and Services Online
About: Frank Kern is a successful internet marketer and is considered one of the top experts on the subject. He is available for business consultations and can be contacted through his website at http://FrankKern.com.