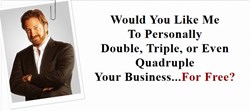 La Jolla, CA (PRWEB) January 09, 2014
Frank Kern is one of the most well known internet marketers in the world who has been so successful he has gained the attention of and been featured with Anthony Robbins. Currently Frank Kern spends his time as a business consultant teaching small and large businesses how to sell high tickets items online, and how to multiply the earnings of their business by two to three times in a short amount of time.
In a new video montage Frank features 3 of his current clients that tell their story about what they have learned from Frank Kern and why investing time with him can completely change a business.
The three clients featured in the new video are Darren Scott Monroe, Tony Kent from MakeYourLife Magical.com, and Diego Rodriguez from PowerMarketing.net. Frank offers a high paid adviser program that has elevated all three of their businesses to new levels of success.
Watch the Frank Kern consulting testimonials here at, http://www.youtube.com/watch?v=UQK4ULMWmkQ.
The complete video can been seen in under six minutes and gives people an honest look at how people working with Frank Kern feel about what they are learning from him and the results.
To find out about a free consultation with Frank Kern go to his official website here at http://frankkern.com/.