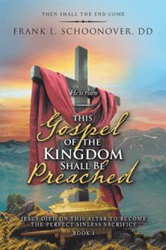 SPINDALE, N.C. (PRWEB) April 24, 2020
Frank L. Schoonover, DD, has always been searching for the truth. He believes that truth is an overwhelming factor with God because Jesus is the truth living in the redeemed flesh of a natural man. Through an examination of his Scripture, his spirituality book titled "This Gospel of the Kingdom Shall Be Preached: Then Shall the End Come" (published by LifeRich Publishing) discusses sin and redemption and the path to eternal life.
"God in the form of Jesus Christ entered into the earth to redeem man by way of the destruction of all the life of sin possessed by man. Man has been called a sinner simply because his entire natural life is a life of sin, and no matter what he does, its end result is seen as a sin because man's life is sold out to the sin nature. It is what man is as a natural man, possessing a life called the life of the soul of sin. But when the Lord Jesus becomes his redeemer, all of the way of his natural life changes and never returns to sin again as his way of life, and that is what the redemptive process is all about," Schoonover explains.
"God demands you personally, so he can give you eternal life because it is you personally who is called a sinner man because it is you that are all sinners who possess an entire life of sin and if God does not intervene in your life of sin, you shall never go to heaven when you die physically," he reiterates.
"This Gospel of the Kingdom Shall Be Preached: Then Shall the End Come" brings readers to a conclusion as to what truth is, in reality, "The truth of God's Word" which is in reality the Lord Jesus Christ as the living Word of God. "May God bless you through the reading of this book and may you prosper in all your ways through Christ Jesus who is the magnificent Lord of our eternal lives," Schoonover concludes. For more details about the book, please visit https://www.amazon.com/This-Gospel-Kingdom-Shall-Preached/dp/1489727884.
"This Gospel of the Kingdom Shall Be Preached: Then Shall the End Come"
By Frank L. Schoonover, DD
Hardcover | 6 x 9in | 202 pages | ISBN 9781489727862
Softcover | 6 x 9in | 202 pages | ISBN 9781489727886
E-Book | 202 pages | ISBN 9781489727879
Available at Amazon and Barnes & Noble
About the Author
Frank L. Schoonover, DD, is a graduate of Rhema Bible Training Center class of 1978 and 1979 as a two year trained disciple of God. He received his doctorate in divinity degree in 1996 from Emmanuel University in North Carolina and his Bachelor of Arts degree in 1995. He has pastored for 20 plus years in five different states and built two Bible schools in his lifetime career as a student of the Scriptures. He was saved in the very early '70s and was baptized in the Holy Spirit just a few months after he gave his heart to the Lord through the receiving of the baptism in the Holy Spirit. His ministry was mostly with the American Indians in Lewiston, New York with the Tuscarora Indians and in Montana with the Northern Cheyenne Indian tribes where he built his first bible school in Billings, Montana in 1980. He began his ministry with the Tuscarora Indians, where he pastored for three plus years before he went off to Bible school in Broken Arrow, Oklahoma, and then pastored a number of churches over the next years. He had a road ministry for a few years after he left his pastoring in Billings and Lame Deer, Montana and went on the road teaching the Word of God.
LifeRich Publishing, the strategic publishing partnership of Reader's Digest and Author Solutions, LLC, was created to provide all writers a platform for sharing their stories, recipes, advice and more. LifeRich authors will benefit from a wealth of editorial design, marketing and education resources, specially created by Reader's Digest editors for the enrichment of these LifeSmart individuals. Books can be published in print, ebook or audio formats, with additional distribution to up to 25 million Reader's Digest customers through its online properties. For more information or to publish a book, please visit liferichpublishing.com or call 1-888-238-8637.