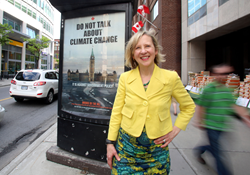 "If art has to agree with government policy, then art is government propaganda." Franke James
Beijing, China (PRWEB) August 28, 2014
When Canadian bureaucrats worked behind-the-scenes to silence artist Franke James, they could not have foreseen that their actions would be documented, illustrated and skewered in an award-winning, tell-all book, 'Banned on the Hill: A True Story about Dirty Oil and Government Censorship'. And they certainly didn't expect that their secret techniques would be showcased at the 2014 Beijing International Book Fair, the largest publishing industry event in the Asian Market.
However, Franke James, an artist, author and environmental activist, wasn't easily silenced.
James saw the government's censorship of her voice as an opportunity to entertain, educate and inspire others to exercise their democratic right to speak up. Since May 2011, James has vigorously and creatively fought back against the government's interference and censorship calling it an "infringement on her right to free expression". Confronted with flat-out government denials, James filed freedom of information requests to obtain 2,172 pages of internal government documents related to her artwork and activism. The documents reveal the undemocratic truth. Canadian bureaucrats silenced her because she disagreed with the government's inaction on climate change and their push to develop Alberta's "oil sands" (tar sands).
"The artist's work dealt mostly with climate change, and was advocating a message that was contrary to the government's policies on the subject", Jean-Bruno Villeneuve, Spokesperson, Foreign Affairs and International Trade Canada, wrote in an internal email.
James responds, "If art has to agree with government policy, then art is government propaganda."
In 'Banned on the Hill: A True Story about Dirty Oil and Government Censorship', James tells how she first discovered she was being censored by the Canadian government—and how she fought back. She used investigative digging, creativity, and crowd-funding to amplify her message. Her ominous "Do Not Talk about Climate Change" poster appeared on the streets of Canada's capital city Ottawa, in the financial heart of the oil sands, Calgary, Alberta, and in the US capital city of Washington. And now Banned on the Hill is appearing in Beijing, China.
"The awards and recognition for 'Banned on the Hill' are a sweet victory for me, for democracy, and for environmental voices everywhere. And it's a blow against those high up in the Canadian government who are trying to silence and suppress environmental voices. It's proof that censorship does not work—especially if the person targeted can wield a paint brush and leverage social media to gain supporters from around the world."
'Banned on the Hill' is a handbook for activists wanting to exercise their democratic rights and fight back against "message control". James gives practical tips for information activists, based on her own battles and the actual documentation she received from the Canadian government:
1. Stupid Cat Tricks: Making dumbed-down information 'smart' again
2. Undoing the C.Y.A: Uncover the truths hiding under the bureaucrat's black markers
3. Sit-On-It: What to do when they just sit-on-it, as bureaucrats often do
4. Spies & Prowlers: How to track who's monitoring and spying on you
Franke James' battle with Canadian government secrecy is continuing. Canada's Office of the Information Commissioner is currently investigating the government's extensive use of redactions to cover-up selected information in the released documents, allegedly for reasons of "international security".
James comments, "I didn't know art was that dangerous."
About Franke James:
Franke James received the 2014 Liberty Award for Excellence in the Arts from the BC Civil Liberties Association. "Outspoken on environmental issues, her works have come into conflict with the federal government – leading to the cancellation of her 20-city European art exhibition because of government interference from high-level bureaucrats. Her experiences as an artist facing muzzling and censorship by the federal government led to the publishing of her third book, 'Banned on the Hill', which chronicles her experience with free expression through eight 'visual essays'. Her focus on environmental and social justice, and her fight for free expression, are a few of the reasons Franke James is this year's recipient."
'Banned on the Hill' Book Awards:

2014 Gold IPPY Award winner at the Independent Book Publishers Awards, Canada-East Best Regional Non-Fiction category
2013 Silver Award, Foreword Reviews' IndieFab Book of the Year Award, Category: Ecology and Environment
'Banned on the Hill' is at the Beijing International Book Fair, August 27-31, 2014. Visit Foreword Reviews Booth at BIBF: booth Q05 in Hall E2
Buy 'Banned on the Hill' on Amazon.com
Contact the author for book info, Foreign book rights and sales
About Foreword Reviews
Foreword Reviews is for those who love great stories and yearn to discover something new from small and independent publishers and university presses. Our editors discover, curate, critique, and share reviews of books to satisfy the hunger and curiosity for new literature and authors on our website, and in our quarterly magazine which is distributed quarterly to 7500 librarians and booksellers. We recognize the best of indie at the annual IndieFab Awards and travel to international book shows, helping authors establish foreign rights relationships. Celebrating our 16th birthday this year, Foreword Reviews is located in Traverse City, Michigan, USA.
Foreword Reviews Booth at BIBF: booth Q05 in Hall E2