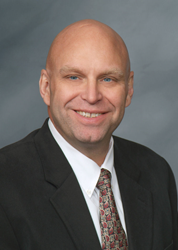 FRANKENMUTH, Mich. (PRWEB) September 22, 2021
Frankenmuth Insurance is pleased to announce Andy Knudsen was named Chief Operating Officer on September 3, 2021.
Knudsen has 32 years of claims management experience and has been with Frankenmuth Insurance for more than eight years. In addition to serving as Chief Operating Officer, Knudsen will continue in his role as Executive Vice President and Corporate Secretary. Earlier this year, Knudsen was elected to the Board of Directors for Frankenmuth Insurance and its six subsidiary companies.
Knudsen holds a bachelor's degree in business from the University of Colorado. Serving as an industry expert, Knudsen is involved with legislative, regulatory, and public information issues at state and national levels. At the state level, he serves on the Board of Directors for the Michigan Chamber of Commerce and the Insurance Alliance of Michigan. At the national level, he serves on the American Property Casualty Insurance Association's Executive Advisory Council. Additionally, he participates in the Congressional Contact Program and serves on the Autonomous Vehicle Council for the National Association of Mutual Insurance Companies.