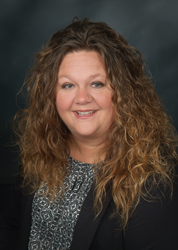 FRANKENMUTH, Mich. (PRWEB) March 11, 2021
Beth Wright was promoted to Director of Property & Casualty Claims at Frankenmuth Insurance.
Wright has 22 years of service to Frankenmuth Insurance and most recently managed the property and liability sections within the Claims department. She has championed the value of early fraud detection and oversees the company's Special Investigations Unit. In her new role, she will take on the added leadership of the auto, personal injury protection and workers compensation units.
She is a United States Air Force veteran and holds a bachelor's degree in criminal justice from the University of Nebraska Omaha. Throughout her career, she has advanced her industry knowledge through various designations and certificates. She earned Accredited Insurance Counselor designation in 2000, supervisor certification from Saginaw Valley State University in 2005, Chartered Property Casualty Underwriter designation in 2006, Fraud Claim Law Associate designation in 2007, Property Claim Law Associate designation and certification as a property subrogation arbitrator with Arbitration Forums in 2008, Michigan Insurance Adjuster licensure in 2011, the Senior Claim Law Associate Gold Award in 2013, and Workers Compensation Professional certification in 2020.
Insurance exists to provide peace of mind, and Frankenmuth Insurance has been protecting individuals, families and businesses for more than 150 years. We truly care about the people we serve and strive to be your insurer of choice. We partner exclusively with nearly 700 independent agents to customize business, home, auto, and life insurance policies and surety bonds. Headquartered in Frankenmuth, Michigan, and doing business in 15 states, Frankenmuth Insurance is financially sound, with $1.8 billion in assets. The company has an A.M. Best rating of "A" (Excellent). For more information visit https://www.fmins.com.