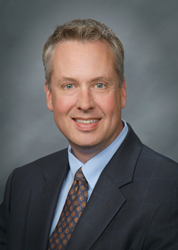 FRANKENMUTH, Mich. (PRWEB) March 11, 2021
Tim Donnellon was promoted to Vice President of Human Resources at Frankenmuth Insurance.
Donnellon joined Frankenmuth Insurance nearly six years ago and has served as the Director of Human Resources. He has 24 years of leadership in human resources and 30 years of management experience. Since joining Frankenmuth Insurance, Donnellon has been instrumental in streamlining and implementing human resource information systems for payroll, compensation management, onboarding and records management.
Advocating for future industry professionals, Donnellon serves on the Insuring MI Future Board and is chair of the Steering and Operations Committees for the company's Insurance Leadership Academy. Over the last five years, Frankenmuth's academy has grown to reach over 70 local students in Tuscola and Saginaw counties. Donnellon also serves as chair of the Frankenmuth Insurance Foundation's Scholarship Committee.
Donnellon holds a bachelor's degree in industrial/organizational psychology from Wayne State University. Serving as an industry expert, Donnellon is on the Northwood University Insurance & Risk Board and Michigan Catastrophic Claims Association's Personnel Committee.
Insurance exists to provide peace of mind, and Frankenmuth Insurance has been protecting individuals, families and businesses for more than 150 years. We truly care about the people we serve and strive to be your insurer of choice. We partner exclusively with nearly 700 independent agents to customize business, home, auto, and life insurance policies and surety bonds. Headquartered in Frankenmuth, Michigan, and doing business in 15 states, Frankenmuth Insurance is financially sound, with $1.8 billion in assets. The company has an A.M. Best rating of "A" (Excellent). For more information visit fmins.com.