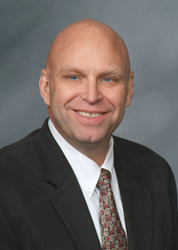 FRANKENMUTH, Mich. (PRWEB) March 11, 2021
Andy Knudsen was promoted to Executive Vice President at Frankenmuth Insurance. With this promotion, in addition to executive leadership for Claims operations, Knudsen will be responsible for Administration and Marketing functions. He has also been appointed Corporate Secretary and will be nominated to serve on the Board of Directors at its upcoming annual meeting in April.
Knudsen has 32 years of Claims management experience and has been with Frankenmuth Insurance for more than eight years. He serves on the Executive, Proxy, Retirement, Investment, and Political Affairs (chair) Committees of Frankenmuth Mutual Insurance Company and its five subsidiary companies. He also acts as the company spokesperson for all media inquiries. Additionally, Andy serves on the Board of Directors for the Frankenmuth Insurance Foundation and serves on the Executive (chair) and Educational Committees.
Knudsen holds a bachelor's degree in business from the University of Colorado. Serving as an industry expert, Knudsen is involved with legislative, regulatory, and public information issues at state and national levels. At a state level, he serves on the Board of Directors for the Michigan Chamber of Commerce and the Insurance Alliance of Michigan. At a national level, he serves on the American Property Casualty Insurance Association's Executive Advisory Council. Additionally, he participates in the Congressional Contact Program and serves on the Autonomous Vehicle Council for the National Association of Mutual Insurance Companies.
Insurance exists to provide peace of mind, and Frankenmuth Insurance has been protecting individuals, families and businesses for more than 150 years. We truly care about the people we serve and strive to be your insurer of choice. We partner exclusively with nearly 700 independent agents to customize business, home, auto, and life insurance policies and surety bonds. Headquartered in Frankenmuth, Michigan, and doing business in 15 states, Frankenmuth Insurance is financially sound, with $1.8 billion in assets. The company has an A.M. Best rating of "A" (Excellent). For more information visit https://www.fmins.com.