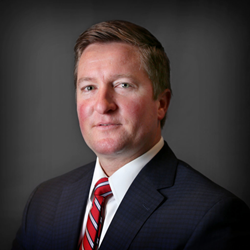 "We are grateful to all our council members for their time and efforts and look forward to working with Todd in the years to come," Benson said.
DETROIT (PRWEB) October 04, 2019
Frankenmuth Insurance, a regional insurance carrier based in Frankenmuth, Mich., is pleased to announce the addition of Todd Piersol of Brown & Brown of Detroit to its Agency Council. Frankenmuth Insurance (FI) formed its Agency Council in 2009 and selects agents from each region where FI does business to ensure the needs and concerns of all its agency partners are represented.
Piersol has been in the insurance business since 2006 after getting his start as a commercial insurance producer with Brown & Brown. In 2013, he relocated to Michigan from Florida to work as the profit center leader for Brown & Brown of Detroit, and today serves as executive vice president. Piersol specializes in risk management, workers' compensation and executive liability insurance, and offers a relationship-based approach to business by working with entrepreneurs and business owners to become familiar with their stories and understand how they develop their business.
"Todd brings more than 13 years of insurance experience and is a great addition to the Agency Council," said John Benson, Chairman of the Board and Chief Executive Officer for FI. "His contributions will be vital as we work together to explore strategic issues that ultimately benefit all our agency partners."
Members of the Frankenmuth Insurance Agency Council meet twice annually to discuss strategic issues of mutual interest, providing valuable insight that helps strengthen the company's partnerships with all agencies. Other members of Frankenmuth Insurance's Agency Council include:

Brian Bartosh, Top O' Michigan Insurance Agency (MI)
Gary Burton, Robertson Ryan & Associates Inc. (WI)
Gretchen Hopp Doyle, Baker-Hopp & Associates (MI)
Victor Jowers, Upchurch & Jowers Agency (SC)
Mike Kuhl, Kuhl Insurance Agency (IL)
Scott McVicker, Savage McVicker Insurance (OH)
Brent Neal, Frank E. Neal & Co. (TN)
Jeff Lind, Clark Insurance (ME)
Rich Smith, Hickok & Boardman (VT)
Bill St. Charles, Michigan Community Insurance Agency (MI)
Todd VanDyk, Olivier - VanDyk Insurance Agency (MI)
Vickie Wolcott, M.J. Schuetz Insurance Services (IN)
Benson said, "We are grateful to all our council members for their time and efforts and look forward to working with Todd in the years to come."
Frankenmuth Insurance has been providing peace of mind for families and businesses for 150 years. Because insurance is both complicated and critical to people's lives, Frankenmuth works exclusively with 600 independent agents to provide business, home, auto and life insurance policies. With more than 700 employees, the company is headquartered in Frankenmuth, Michigan, and offers insurance products in 15 states. Frankenmuth Insurance is financially sound, with $1.7 billion in assets. The company has an A.M. Best rating of "A" (Excellent) and is a Ward 50® Top Performer. For more information visit fmins.com.