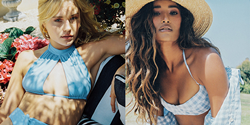 We chose Centric because we wanted a long-term partner whose solution can grow and expand as we do.
CAMPBELL, Calif. (PRWEB) February 04, 2021
California-based fashion brand Frankies Bikinis has selected Centric Software®'s Product Lifecycle Management (PLM) solution for emerging brands, Centric SMB. Centric Software provides the most innovative enterprise solutions to fashion, retail, footwear, outdoor, luxury and consumer goods companies, aimed at achieving strategic and operational digital transformation goals.
Based in Venice, CA, Frankies Bikinis delivers a variety of inclusive and on-trend swimwear, apparel and clean beauty. The brand was founded in 2012 by Francesca Aiello, fueled by her desire to create high-quality swimwear with her remarkable sense of style. The trend-driven designs and affordable price points makes their offerings a favorite among not only consumers, but an expansive and growing group of A-List celebrities.
The company has experienced rapid growth while expanding into new categories such as footwear and cosmetics and needed a tool to streamline product development to cope with the increasing number of products, product types and channels. Kalin Mowry, Director of Production and Development, recalls working in numerous spreadsheets, shared docs and emails, stating, "There were thousands of email chains just trying to track the samples, incoming shipments, and raw materials. We were looking for a streamlined solution to house everything under one roof."
The team at Frankies Bikinis reviewed several PLM providers, but decided on Centric SMB because of its out-of-the-box configurability and the ability to meet the needs for both today and the future. Mowry states, "We chose Centric because we wanted a long-term partner whose solution can grow and expand as we do. Having all the data at our fingertips will make it easy to share documents and calendars with other departments, making the process extremely streamlined and cohesive."
Chris Groves, President and CEO of Centric Software shares, "We are very pleased that Frankies Bikinis, an exciting and dynamic company, has chosen to partner with us. We look forward to supporting their business growth now and into the future."
Centric SMB will allow for Kalin to have full visibility to what her team is doing. She shares, "Rather than opening up a spreadsheet to search various projections with different yields, I'll simply pull a consumption report. It will be amazing to have all of this information under one roof." She explains that over the last eighteen months, the brand has brought product development in-house, stating that, "before this transition, we depended on third-party contractors for help, but now I'm really focusing on building the product team in-house. Having the software and the back-end support to foster that growth is key."
Learn more about Centric SMB
Frankies Bikinis, LLC. (http://www.frankiesbikinis.com)
In 2012 founder Francesca Aiello began her mission to create the perfect bikini, gaining momentum when she began to showcase her swimsuit designs on Instagram. After creating two collections, Francesca became the youngest designer to ever debut at Miami Swim Week in 2014. Her designs are worn by supermodels and celebrities including Gigi and Bella Hadid, Hailey Bieber, and Kylie and Kendall Jenner.
Frankies Bikinis is a global online destination for fashion-forward beachwear inspired by Malibu and made in Los Angeles. Known for high-end fabrics, fashion forward shapes, and cheeky bottoms, the bikinis look great on everybody. Since the company's inception, Francesca Aiello has evolved the brand into a beach lifestyle brand, expanding product offerings to include ready-to-wear clothing and beauty. Frankies Bikinis' designs can be found in better retail boutiques nationwide including Revolve, Intermix, Free People, Kith, and Browns. The largest selection of Frankies Bikinis can be found at frankiesbikinis.com.