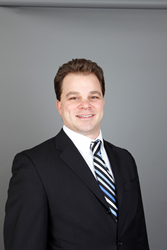 The work of CASA GALs is very challenging, but it is worth taking on because it is profoundly meaningful and important."
Columbus, Ohio (PRWEB) March 03, 2015
Franklin University, one of the leading educators of working adults, is proud to announce Dr. Alex Heckman, Department Chair of Public Administration has been sworn in as a Court Appointed Special Advocate (CASA) officer. Amid rising awareness about domestic violence and abuse, Dr. Heckman joined 28 new community volunteers who were sworn in to become Court Appointed Special Advocates (CASA) Guardians ad Litem (GALs) as the voices for children who have been victims in their own homes.
As a program chair and father of three, Dr. Alex Heckman offers a unique perspective on the value and impact of the special service role he is beginning. "The work of CASA GALs is very challenging, but it is worth taking on because it is profoundly meaningful and important," said Heckman. "The training I received and knowing there is a CASA team for support gives me the confidence that I can effectively advocate for the most vulnerable children. We can improve their lives and improve our community overall."
CASA advocates are been extensively recruited, screened and specially trained using a National CASA model proven to deliver more positive outcomes in life for children who experience it. They join the exclusive ranks of volunteers who focus on the needs of neglected and abused children in protective services and cases in the juvenile court system. Judges and Magistrates rely upon the insights and recommendations of the Guardians and the CASA team when making decisions about the next steps for these young victims. CASA of Franklin County served over 820 children in 2015. Historically, there are over 3000 neglect and abuse cases annually in the Juvenile Courts.
The new advocates come from a variety of professions and neighborhoods across Central Ohio, and join a network of over 220 local and over 77,000 national volunteers who donate nearly 5.4 million hours to helping change the direction of young victims' lives.
About the Undergraduate Public Administration Major
Franklin University's Public Administration Degree Program is exclusively focused on preparing students to gain entry or advancement as an administrator, manager, or leader in a government or nonprofit organization. Students acquire the skills needed to help organizations fulfill their missions. These skills include organizational leadership, fiscal administration, political advocacy, and program management. Find out more about this program at: http://www.franklin.edu/public-administration-bachelors-degree-program.
About the Master of Public Administration
The Master of Public Administration (MPA) is the graduate degree program of choice for government and nonprofit organizations seeking leadership talent. Franklin's MPA Degree equips you to tackle the specific leadership challenges faced by public administration professionals -- similar to the way an MBA prepares you for an executive position in the private sector. You'll learn to create administrative plans, make management decisions, and achieve organizational goals for the advancement of the public interest. Find out more about this program at: http://www.franklin.edu/public-administration-masters-degree-program.
About Franklin University
Founded in 1902, Franklin University is one of the leading and most experienced educators of adult students. Annually, nearly 10,000 students attend Franklin, through its Main Campus in downtown Columbus, Ohio, three Central Ohio locations, regional locations in Beavercreek, Ohio and Indianapolis, as well as at five co-locations across Ohio, in addition to online. Franklin offers more than 40 undergraduate and graduate programs (including the Social Sciences and Entrepreneurship Bachelor of Science programs) and graduates more than 1,500 students annually. The University's MBA program is offered internationally through agreements with institutions in Europe and the Middle East. Further information regarding Franklin University can be found at http://www.franklin.edu.
Franklin University is accredited by The Higher Learning Commission (HLC), the International Assembly for Collegiate Business Education (IACBE), and the Commission on Collegiate Nursing Education (CCNE).