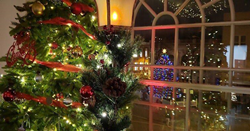 The Festival of Trees People's Choice Awards were: • People's Choice Tree - Tree 37, decorated by Starr Insurance. • People's Choice Wreath – Wreath D, decorated by Conococheague Audubon
CHAMBERSBURG, Pa. (PRWEB) December 06, 2022
Franklin County Visitors Bureau wrapped up the fourth annual Festival of Trees at the 11/30 Visitors Center, 15 South Main Street, on Friday, December 2. The festive event featured 51 beautifully decorated trees and 18 wreaths while raising more than $6,250 for the Cumberland Valley Breast Care Alliance (CVBCA). CVBCA promotes breast cancer awareness, advocates for early diagnosis, supports people and their loved ones going through treatment, and celebrates the lives of survivors and those that succumb.
In addition to donating the funds from the voting and silent auctioning of the trees and wreaths, Franklin County Visitors Bureau teamed up with Homeless Matters and Grocery Outlet to launch Sharing the Heart of the Holidays. The first-year event supported Franklin County families and residents that needed a little extra help during the holiday season by collecting items like gloves, hats, scarves, blankets, coats, family games, grocery cards, gas cards, and toys. More than 600 items were collected and are being distributed across Franklin County.
The Festival of Trees People's Choice Awards were:

People's Choice Tree - Tree 37, decorated by Starr Insurance.
People's Choice Wreath – Wreath D, decorated by Conococheague Audubon
The top-selling tree of the silent auction was Tree 31, decorated by Chambersburg Hearing Center with a final bid of $450. The top-selling wreath was Wreath H, decorated by the Capitol Theatre with a final bid of $120.
Franklin County Visitors Bureau appreciates the support of the businesses, individuals, civic groups and organizations that decorated trees as well as the those who visited the 2022 Festival of Trees. The 2023 Festival of Trees is set for November 18 through December 2, 2023.
The Franklin County Visitors Bureau invites all to explore history, arts and architecture, recreation, natural beauty, fresh foods and the warm hospitality of communities like Chambersburg, Greencastle, Mercersburg, Shippensburg, and Waynesboro. Franklin County PA is located just north of the Mason Dixon Line and is an easy drive from Washington DC, Philadelphia, and Pittsburgh. Plan a visit at ExploreFranklinCountyPA.com, contact 866.646.8060, or stop at the new Franklin County 11/30 Visitors Center in downtown Chambersburg.