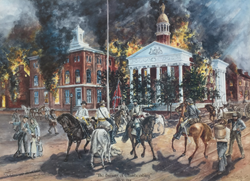 As part of 1864: The Burning celebrations in 2018, Franklin County Visitors Bureau plans to donate silent art auction proceeds to Habitat for Humanity, Franklin County, PA.
(PRWEB) July 19, 2018
As part of 1864: The Burning celebrations in 2018, Franklin County Visitors Bureau plans to donate silent art auction proceeds to Habitat for Humanity, Franklin County, PA. All 10 pieces were generously donated by Mr. Tom Fogelsanger. Tom is the son of local residents, Donald and Gene Fogelsanger. Tom donated the art from the collection of his father, Donald.
The silent art auction will consist of the following pieces:
1. Dolly Harris – Civil War Heroine – June 1863 – Greencastle, PA – Ron Lesser
2. Original "The Burning" – Ron Lesser 54/100
3. Indian Outpost
4. East Toward Gettysburg – Lee's Decision at Chambersburg – Robert L. Hunt
5. Autumn on The Square - Chambersburg
6. Indian Warrior
7. The Burning of Chambersburg - Whitsel
8. General Lee's Retreat – Waynesboro - Whitsel
9. The J.E.B. Stuart Raid - Whitsel
10. The Battle of Monterey Pass - Whitsel
The 1864 Burning of Chambersburg Re-enactment Event on July 21 brings history to life and remembers our past by re-enacting the burning and rebuilding of the town. The evening begins with a Civil War Walking Tour at 5:30, accompanied by Certified Tourism Ambassador Tour Guides. The evening continues with the finals of A'Cappella Unplugged, starting at 7 pm.
As darkness approaches in the evening, the town of Chambersburg transforms into 1864! The town's ransoming, burning and rebirth history comes to life during 1864: The Burning. On July 30, 1864, Confederates demanded a ransom of $100,000 in gold or $500,000 in Yankee dollars or Chambersburg would be burned. The town was unable and unwilling to deliver the money, and the center of Chambersburg was fired. More than 2000 people were homeless and over 550 structures burned. Yet, the town returned, stronger than ever, and this is the basis of the annual celebration. It is a tribute to the strength of people and community. This event is filled with incredible light and atmospheric effects! It's hard to believe it's not actually ablaze! As the Confederate soldiers arrive, stay alert, as they will attempt to collect ransom money from within the crowd. All money collected will be donated to Franklin County Habitat for Humanity.
What is Habitat for Humanity of Franklin County (HFHFC)?
HFHFC is an affiliate of Habitat for Humanity International (HFHI) and is a hands-on, ecumenical Christian housing ministry whose objective is to eliminate substandard housing in Franklin County and provide affordable homes to low income families. By having people from different economic classes and races work together in equal partnership, Habitat builds new relationships and a sense of community as well as new houses. HFHFC is not a give away program. Partner families contribute hundreds of hours of their own labor (sweat equity) to build their new homes and the homes of others. Habitat houses are sold to partner families at no profit, and are financed with an affordable, no interest loan. Mortgage payments go into a revolving Fund for Humanity which is used to build more houses.
The Franklin County Visitors Bureau invites all to explore Franklin County PA and enjoy the history, arts, recreation, natural beauty, fresh foods and warm hospitality of communities like Chambersburg, Greencastle, Mercersburg, Shippensburg, and Waynesboro. Franklin County PA is located just north of the Mason Dixon Line and an easy drive to Washington DC, Philadelphia, and Pittsburgh. Discover more….plan your visit at ExploreFranklinCountyPA.com , by contacting 866.646.8060 or 717.552.2977.