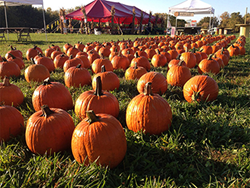 From the traditional corn mazes, pumpkin picking and fall festivals, to a modern approach of pumpkin and corn cannons, fall is fabulous in Franklin County.
FRANKLIN COUNTY, Pa. (PRWEB) October 18, 2018
From the traditional corn mazes, pumpkin picking and fall festivals, to a modern approach of pumpkin and corn cannons, fall is fabulous in Franklin County!
A mainstay of Franklin County, check out Chambersburg AppleFest on October 20 in the downtown area. From 9 a.m. to 4 p.m., enjoy art, food, crafts, music, kid's activities and rides! With a focus on apples, an important and delicious product of Franklin County, visitors can find unique items and delicious treats.
Stoner's Dairy Farm in Mercersburg is running until November 4. The farm features a 5-acre corn maze, petting zoo, play area, hayride and delicious treats for sale. Need a pumpkin for Halloween? No problem. Stoner's has mums, pumpkins and other fall decorative items available for purchase at their beautiful farm. For the adventurous one, try the corn cannon and shoot corn cobs to hit targets to get your name on the Wall of Fame! From cars to scarecrows, try your luck at hitting your targets in a nearby field on the property.
Don't forget Destination Arts in downtown Waynesboro! Thursday through Sundays, enjoy seeing local, regional and national art on display in the downtown windows as well as entertainment, special art demonstrations and activities.
For another place to enjoy the fall season, visit the 10-acre corn maze and hayrides at Country Creek Produce Farm. Pumpkins are available to be picked straight from the patch! Also to do at the farm on the weekends includes slides, duck races, games, barrel trains and a pumpkin cannon. Never experienced a "pumpkin chunkin" before? Don't worry, the staff at Country Creek will make the excitement safe and fun.
Renfrew Park's annual PumpkinFest returns October 20 with pumpkin carving, hayrides, music, children's activities and fun games. This annual tradition helps support Renfrew Institute and Renfrew Museum and Park which provides educational programs to the public year-round. Try shooting the Pumpkin-Chunkin' trebuchet and watching them go flying!
There's no better place to celebrate the fall season and watch the colors change than at the 14th Annual Great Outdoors Festival at Whitetail Ski Resort in Mercersburg. This year, on October 27 and 28, take chairlift rides, hay rides, catch and release fishing, and blacksmith and apple butter making demos. Want to learn more about their ski passes or want to swap skis and boards? This weekend is the time to do it! Don't miss their specialized snowmaking demo to see how the resort keeps it snowy even when the weather doesn't want to cooperate.
The Franklin County Visitors Bureau invites all to explore Franklin County PA and enjoy the history, arts, recreation, natural beauty, fresh foods and warm hospitality of communities like Chambersburg, Greencastle, Mercersburg, Shippensburg, and Waynesboro. Franklin County PA is located just north of the Mason Dixon Line and an easy drive to Washington DC, Philadelphia, and Pittsburgh. Discover more….plan your visit at ExploreFranklinCountyPA.com , by contacting 866.646.806.