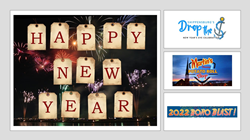 FRANKLIN COUNTY, Pa. (PRWEB) December 30, 2022
Franklin County Visitors Bureau invites the public to celebrate the New Year in Franklin County PA. Three "drop" celebrations are planned in the county. Chambersburg is dropping potato rolls, Waynesboro is having a balloon drop, and Shippensburg is dropping an anchor.
Chambersburg is home to Martins Famous Potato Rolls, so when Downtown Chambersburg Inc. decided to organize a New Year's Celebration, dropping Martin's Famous Potato Rolls just made sense. The first potato roll baked with the Martin family recipe was in Chambersburg PA and the company still bakes the soft, delicious rolls on Potato Roll Lane in Chambersburg. The event, held at Fort Chambers Park along North Main Street, begins at 5 PM and ends at 9 PM with the "roll drop." Event includes a 7 PM candy drop, Martin's Famous Potato Roll giveaways, and $1,000 cash giveaway. Learn more about Martins Famous Potato Roll drop here.
Waynesboro is celebrating 2023 with the annual Boro Blast at Main Street Park, 25 East Main Street in Waynesboro. Boro Blast is a family-friendly event, featuring food trucks, ice carving by champion carver Danny Kissel, and music on the Main Street Stage. Everything gets started at 5 PM and ends at 7 PM with a huge balloon drop.
Drop The Anchor, held on East King Street between Penn Street and Earl Street in Shippensburg, gets started at 8 PM. It is a free, family-fun event with bounce house, giant slide, obstacle course, DJ, food trucks, Jumbotron countdown, and big screen televisions displaying New Year's celebrations throughout the world. The anchor drops at midnight, welcoming 2023.
The Franklin County Visitors Bureau invites all to explore history, arts and architecture, recreation, natural beauty, fresh foods, and the warm hospitality of communities like Chambersburg, Greencastle, Mercersburg, Shippensburg, and Waynesboro. Franklin County PA is located just north of the Mason- Dixon Line and is an easy drive from Washington DC, Philadelphia, and New York. For more information, visit ExploreFranklinCountyPA.com or contact the Franklin County Visitors Bureau at 866.646.8060 for information and 11/30 Visitors Center activities.