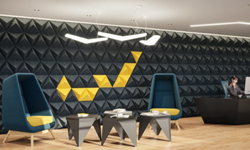 ARLINGTON, Texas (PRWEB) October 29, 2020
Fräsch, an innovative acoustical design company specializing in sustainable acoustical solutions, announced today the release of their CUBISM Series, a high-performing acoustical wall application.
The CUBISM Series features wall panels made out of PET acoustical felt that are folded to create a 3-dimensional geometry without molding or any fill material.
The folding technique, inspired by origami, maintains the integrity of the material (as opposed to molding, which compresses the felt) and creates a hollow cavity that enhances the sound-absorbing properties of the application without the use of fill.
This innovative design is also the only solution on the market featuring an easy install with Fräsch's patent-pending Secret Trap Door (STD) design. The STD is a small flap cut into the material that allows for installation by screwing, rather than the traditional installation process of gluing. Once installed, the STD closes and completely blends in with the material.
CUBISM comes in four unique shapes, PILO, POLY, PYRA and CLIF, adding a unique a 3-dimensional aesthetic to the design of any space.
Frasch will be hosting a webinar on Nov. 5 and 12 highlighting the new line as well as portray the ease of installation. Check out the Fräsch blog for details.
About Fräsch
Fräsch is an innovative acoustical design company that designs and manufactures sustainable acoustical solutions that enhance the visual style of any space. Solutions include acoustical baffles, lighting, wall treatments and accessories. Fräsch is a subsidiary of Catalyst Acoustics Group.
About Catalyst Acoustics Group
Catalyst Acoustics Group is the parent company of an elite group of acoustic, seismic, vibration and noise control companies that together, offer the broadest portfolio of noise control solutions in the market today. The independent brands, channels to market, products and services offered by each business remain unique, while leveraging the scale, deep functional expertise, broad channel reach and significant financial resources.
###
For More Information, Contact
Laura Bute
Marketing Manager