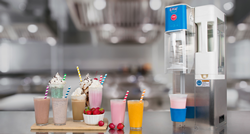 "For over 15 years, f'real has been a leader in the frozen beverage category. We're introducing that same straightforward approach to the fast-food and full-service restaurant industry."
EMERYVILLE, Calif. (PRWEB) May 14, 2019
f'real Foods announces the launch of the B7 behind-the-counter frozen beverage blender, designed specifically for the foodservice industry to help restaurants boost profits and increase customer satisfaction. The foodservice blender is an all-in-one machine that makes a variety of milkshakes, smoothies and custom frozen cocktails at the touch of a single button using revolutionary blend-in-cup technology.
"For over 15 years, f'real has been a leader in the frozen beverage category by making it easy for retailers to sell do-it-yourself milkshakes, smoothies and frappés," said f'real CEO Dinsh Guzdar. "We're introducing that same straightforward approach to the fast-food and full-service restaurant industry, where brands are looking for new revenue streams, ways to reduce labor costs and every advantage to stay ahead of the competition."
Compact and easy-to-use, the hands-free B7 foodservice blender produces maximum output while requiring only minimal space and labor. Restaurant owners and staff alike will appreciate the simple set up and operation, which features:

Less than 10 seconds of operator interaction
One-touch, hands-free 40-second blending
No measuring, scooping or pouring required
No drain or waterline required
Small footprint with minimal labor
Fast, effortless cleanup
The f'real B7 foodservice blender is based on the same self-serve milkshake technology f'real has positioned in more than 20,000 North American locations. Offering a variety of seven pre-packaged flavors in patented, frozen cups makes the process a breeze: select a pre-filled cup flavor (four milkshake, two smoothie, one frappé), remove the lid, blend and serve.
In addition to milkshakes and smoothies, restaurants can upsell custom beverages and cocktails by adding on-site ingredients, such as flavored syrups, purees, alcohol, inclusions and toppings. With hundreds of recipe combinations, this value-added feature makes the B7 blender a lucrative asset to every establishment's bottom line.
The B7 foodservice blender gives restaurant owners a proven asset with infinite options to generate more money without increasing labor. To learn more, visit: https://retailers.freal.com/behind-counter/.
About f'real Foods
Based in Emeryville, California, f'real produces and sells freshly blended real milkshakes, smoothies and frappés in their self-service blenders that are self-cleaning and sanitizing. The 6th leading brand in the milkshake category, f'real uses high-quality ingredients to fill their cups, including real ice cream and fresh fruit. The blenders, which are primarily located in convenience stores across the United States and Canada, allow consumers the option to customize the consistency of their frozen beverage. With three thickness options, consumers can have a shake blended to their liking, all in less than 60 seconds. Currently, f'real is the No. 1 frozen novelty brand in convenience stores, with their program installed in over 20,000 locations and over 350 million cups sold.