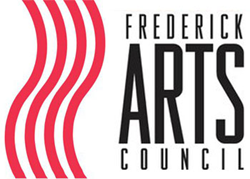 Cochran said, "I will bring this experience back to my work here in Frederick with a renewed perspective and ideas for the future."
FREDERICK, Md. (PRWEB) January 22, 2020
The Frederick Arts Council congratulates Individual Artist Award Winner William Cochran for serving a productive artist-in-residency with the La Napoule Art Foundation in the South of France (outside of Cannes). Cochran was the award winner selected for the residency as part of the Carl Butler Individual Artist Award.
The annual awards, in memory of beloved local artist Carl R. Butler, are designed to honor, support, and strengthen individual artists living and working in the Frederick area.
The La Napoule Art Foundation hosts selective interdisciplinary group residencies at its base at the Château de la Napoule. The Chateau is a museum and serves as a live-work space for practicing artists throughout the year. These residencies not only afford artists the opportunity to engage deeply with their own disciplines, but to develop spontaneous collaborations with artists of varying disciplines and nationalities. Only seven other artists are selected annually to attend the residency from around the world.
While at Napoule, Cochran practiced his own painting and photography as well as entered into collaborations with a calligrapher and a dancer, among others.
"I am grateful to the Arts Council for providing me with this deeply rewarding opportunity, and I will never forget it," Cochran said. "I will bring this experience back to my work here in Frederick with a renewed perspective and ideas for the future."
"We can't wait to see the results of William's work at La Napoule, and we look forward to providing future Individual Artist Award Winners with similar opportunities," said Louise Kennelly, Executive Director of the Frederick Arts Council. "Residencies and other such exchanges enrich our community with an increased wealth of creative resources."
The residency will be awarded every two years. Application information for the Carl Butler Individual Artist Awards will become available via the Arts Council's website in July of 2020. To learn more about the 2019 Awards, visit the award ceremony album on Facebook.
About the Frederick Arts Council
The Frederick Arts Council invests in a vibrant and cohesive arts community for the people of Frederick County. The organization fosters an environment where the arts flourish in the community through grants and scholarships, arts advocacy, and links to essential resources. FAC is responsible for large-scale programming such as the Frederick Festival of the Arts, Art in the Park, and Frederick County's Arts in Education grants. For more information about the Frederick Arts Council, visit http://www.frederickartscouncil.org.