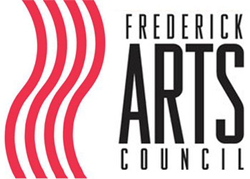 "I'm thankful to have received some support from the Arts Council," said Matt Long, Frederick artist and Artist Relief Fund grantee. "With so many unknowns right now, it's nice to find a bit of comfort as the Arts Council and local community keep our most immediate needs in mind."
FREDERICK, Md. (PRWEB) May 15, 2020
The Frederick Arts Council has launched a Frederick Artist Emergency Relief Fund for local artists facing financial losses due to the COVID-19 pandemic
Grants of $250-$500 are being offered to local artists whose incomes have been adversely affected by the virus. The funds were intended for artists who lost funding primarily due to cancelled events, including performances in all performing arts disciplines; readings, panels, and speaking opportunities; and reimbursement for travel expenses related to creative work that artists had to cover themselves.
Funding was also available for teaching artists who lost income due to school cancellations, and as support for artists working full or part-time in the service industry who lost supplemental income used to support their creative practices.
"We know that the need is enormous, but we are pleased to offer some support thanks to 40 individual donors," said Louise Kennelly, Executive Director of the Frederick Arts Council. "In Frederick, we all understand that supporting artists means nurturing the heart and soul of our community as well as nurturing a major economic driver."
"I'm thankful to have received some support from the Arts Council," said Matt Long, Frederick artist and Artist Relief Fund grantee. "With so many unknowns right now, it's nice to find a bit of comfort as the Arts Council and local community keep our most immediate needs in mind."
To give to the Artist Relief Fund go to https://www.gofundme.com/f/give-to-the-frederick-artist-relief-fund or see link on http://www.frederickartscouncil.org home page. Interested artist applicants can write to info@frederickartscouncil.org.
About the Frederick Arts Council
The Frederick Arts Council invests in a vibrant and cohesive arts community for the people of Frederick County. The organization fosters an environment where the arts flourish in the community through grants and scholarships, arts advocacy, and links to essential resources. FAC is responsible for large-scale programming such as the Frederick Festival of the Arts, Art in the Park, and Frederick County's Arts in Education grants. For more information about the Frederick Arts Council, visit http://www.frederickartscouncil.org.