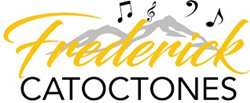 FREDERICK, Md. (PRWEB) February 22, 2019
The Frederick Catoctones will welcome new singers to try on acapella harmony at their open house later his February. From experienced singers to people who love to sing in the shower, the Catoctones are inviting every voice to join them the evening of February 26th from 7:30 to 10:00pm at the Frederick Church of the Brethren for fellowship and song.
Fresh off their celebration of 50 years of singing in Frederick, the Catoctones - Frederick's premier all-male singing ensemble - are excited to continue growing and welcoming new voices into the chorus. Barbershop harmony is an amazing way to find new friends. The Catoctones offer a safe and accepting environment to become a better singer.
Other barbershop choruses from across the region will join the Catoctones for the open house event. Alongside some of Frederick's finest singers, the night promises to be an exciting and informal festival of singing not to miss. From the traditional to the contemporary, there will be something to challenge every voice and ear.
For over fifty years, the Frederick Catoctones have been proudly representing Frederick County as ambassadors of song both in the county and beyond. They have sung for the community at countless local events and have brought the voices of Frederick to Washington, Baltimore, and beyond.
More information about the Catocotones can be found at Catoctones.com.
Further press inquiries and visits are welcomed. Inquiries can be submitted at catoctones.com/contact-us/