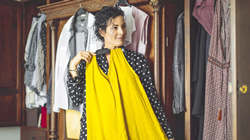 In a disposable world, it is now more important than ever to become a conscious consumer.
NEW YORK (PRWEB) June 30, 2020
Mediaplanet today announces the launch of its cross-platform campaign "Construction & Homeowners," which spreads awareness of advances in sustainability. The Future of Fashion section highlights key solutions contributing to the creation of a conscientious future of fashion.
The Give Back Box platform partners with major retailers to encourage shoppers to reuse shipping boxes from online purchases to send unwanted clothing and household items to organizations like Goodwill Industries of Monocacy Valley (GIMV). Participants simply fill any box with donations and ship them using a prepaid label from givebackbox.com. GIMV receives the donations to sell exclusively on shopgoodwill.com/GIMV to fund their mission of providing employment and job training in the community and to help the planet through sustainable practices.
GIMV collaborated with fashion influencer, Priscilla Andalia of the Best Trends for Life blog, to spread awareness of the ways in which secondhand shopping supports a sustainable lifestyle. The partnership promotes recycling, repurposing, and giving a second life to items that may otherwise end up in landfills. Andalia recently published a blog post highlighting her favorite fashion trends to look for on shopgoodwill.com/GIMV and plans to continue her partnership as a brand ambassador.
GIMV intends to extend more collaboration opportunities to other eco-conscious influencers to amplify their sustainability message and shed light on how purchasing pre-loved clothing also preserves precious resources such as water, energy, and land, that are abused in the fast fashion industry.
"In a disposable world, it is now more important than ever to become a conscious consumer," stated Michael H. Meyer, CEO of Goodwill Industries of Monocacy Valley. "By donating and shopping secondhand on shopgoodwill.com/GIMV, you are making a significant difference by creating jobs for individuals in the community and directly reducing the negative impact on the planet."
Goodwill Industries of Monocacy Valley provides a wide array of workforce development programs to residents of Carroll County and Frederick County in Maryland. Programs include job training, interview preparation, career exploration, digital skills training, and more for job-seekers, veterans, youth ages 14 to 24, and individuals with disabilities. Funding for job training is provided through the sale of donated clothing and other household items.
To explore the digital section of the campaign, visit modernwellnessguide.com and to view the full exclusive article covering the contributions of Goodwill, click here.
About Mediaplanet
Mediaplanet specializes in the creation of content marketing campaigns covering a variety of industries. We tell meaningful stories that educate our audience and position our clients as solution providers. Our unique ability to pair the right leaders with the right readers, through the right platforms, has made Mediaplanet a global content marketing powerhouse. Our award-winning stories have won the hearts of countless readers while serving as a valuable platform for brands and their missions. Just call us storytellers with a purpose. Please visit http://www.mediaplanet.com for more on who we are and what we do.
Press Contact:
Amy Lyons, Director of Marketing
(301) 662-0622 ext. 216
alyons@gimv.org