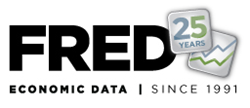 St. Louis, Mo. (PRWEB) April 18, 2016
The signature economic database of the Federal Reserve Bank of St. Louis was started in 1991 as a dial-up electronic bulletin board. There were 30 data series then. Today, FRED boasts 385,000 series, which are accessed online by users worldwide.
So far this year, FRED has already added 90,000 new series, along with a few feature updates. Here are some recent highlights:

Small Area Income and Poverty Estimates: These are state-level data relating to tax exemptions, mean adjusted gross income, and median adjusted gross income.
Health Care Spending: Categorized by disease and by provider, these are published by the U.S. Bureau of Economic Analysis under the Health Care Satellite Account program.
Chicago Fed Survey of Business Conditions: These indexes are constructed from quantitative questions related to capital spending, hiring, business activity, and expectations in the Chicago Fed's District.
Federal Funds Data: FRED added nine series related to the overnight trading in the federal funds market.
Repo and Reverse Repos Series: These are 24 daily aggregates of the repurchase agreements and reverse repurchase agreements from the New York Fed. The data are broken down by the type of securities (Treasury securities, federal agency securities, and mortgage-backed securities) and by the term of the agreement (overnight and term).
GeoFRED, FRED's sister site for mapping, has a new homepage that shows off some stunning maps.
FRED's "older" brother, ALFRED (archival FRED), received a redesign that makes viewing data revisions as easy as using FRED.
For a quick lesson on some of FRED's features, check out this activity to master 10 FRED tools in 10 minutes.
More data and feature updates are yet to come in 2016. Meanwhile, you can learn more about the early days of FRED in this FRED blog post and this article.
Join us in the birthday celebration: Tweet #FREDturns25.
FRED® is a registered trademark of the Federal Reserve Bank of St. Louis.