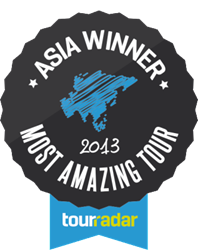 This partnership is as mutually beneficial as it gets. They get to sell our amazing backpacking trips while we get to grow our brand and culture beyond the borders of Canada.
Edmonton, Alberta (PRWEB) April 30, 2014
TourRadar, an online marketplace for group travel tours, has forged a mutually beneficial partnership with Canadian adventure travel company Free & Easy Traveler. Making them a Verified Partner on their website, TourRadar will now feature and sell Free & Easy's unique brand of group backpacking tours on their website and applications. The move marks another step towards travellers utilizing TourRadar as the global forum to view, compare and purchase group tours to virtually anywhere on the planet and see just which companies offer the most worthwhile trips.
"We're super excited about our relationship with TourRadar," says Free & Easy's Operating Partner Rob Campbell. "We first opened communications with Shawn and Travis (Pittman) in 2009, when both our companies were much smaller. Now we are running trips all around the world and they've grown to have an even greater global presence in the travel industry; the timing couldn't be better for us to take this step with them."
The connection between the two companies was first noticed when TourRadar launched their Most Amazing Tour competition in 2012. Free & Easy Traveler surprised many larger operators and observers in the travel industry by winning the title of Most Amazing Tour with their popular 40-day, Experience the Land of Smiles, Thailand tour. Then this past year their same Thailand trip was named TourRadar's Most Amazing Asia group tour and they look to be the frontrunner for winning it all again in 2015.
"Becoming a Verified Partner with TourRadar and being placed in the same category as some of the largest and most well known travel brands in the industry is a pretty amazing feeling," says Campbell. "This partnership is as mutually beneficial as it gets. They get to sell our amazing backpacking trips while we get to grow our brand and culture beyond the borders of Canada."
TourRadar will showcase and sell over 160 different adventure-style trips ran by Free & Easy to Europe, Southeast Asia and the Americas. With their growing relationship with TourRadar, the traditionally Canadian travel company is suddenly readily available to young travellers all around the globe, further globalizing the travel organization.
"We're no longer just bringing people from all over Canada together on these trips. Now we are able to bring people from all over the world together and allow them to experience the life-changing effects of adventure travel. The fusion of ideas and cultures mixed with the experience of being somewhere completely foreign is really what travel is all about and I think this has always been our goal as a company and this move with TourRadar can make it happen."
Free & Easy Traveler has created a new genre of adventure travel by mixing structure with ultimate flexibility in a group setting. They have been operating as a successful adventure tour operator since 2001. Free & Easy currently runs trips to some of the most exotic and amazing places on the earth, including adventure travel in Thailand, the Philippines, Laos, Cambodia, Vietnam, Indonesia, Nicaragua, Panama, Costa Rica, Greece & Turkey. Their trips are 10 - 140 days in length and provide you with the time to dive into each destination and really experience a different way of travel, life and adventure. Free & Easy Traveler is rooted in Western Canada but has worldwide branches.