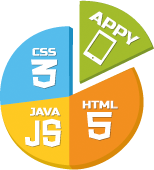 Now Create Apps for Free with Appy Pie's App Builder
New York (PRWEB) May 12, 2014
Appy Pie the leading cloud based DIY app maker will now lets users create free android apps under its new plan offering. Until now Appy Pie users were only allowed to design mobile apps under this plan but under the new plan users will be able to not only design apps but also download and install their Android App Executable (.Apk) files on their Android devices as well as distribute them through their websites and blogs privately or publicly through Google Play App Store.
App created under free plan comes with in-app advertisements and has no editing capabilities. However upgrading the app to paid plan will get rid of advertisements and would enable app editing feature, along with access to advance app features like App Analytics, Push Notifications & Monetization.
"We are using HTML5 & JS along with native API's to create hybrid mobile apps that improves overall app performance and are cross platform combatable," said Abs Girdhar Founder, Appy Pie.
With this announcement, Appy Pie has become the World's only free mobile app builder software that allows individuals & small businesses with no app development experience and no coding knowledge, to create highly customized mobile apps. The only requirement for creating an app is to sign up and input information.
About Appy Pie:
Appy Pie is trademark of Appy Pie Inc that allows anyone with no technical knowledge to create Mobile Apps & Games. Nothing to download or install, no programming required, just drag & drop. Appy Pie was launched in first quarter of year 2013 & at this point more than 20,000 apps have passed through their doors.
For further details, visit http://www.appypie.com/.