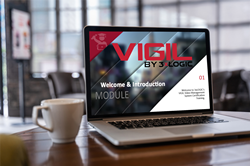 The number of students currently enrolled in just the 3xLOGIC Certification Courses for infinias and VIGIL is greater than the total number of certificates we had issued before we started free training—that's incredible." Brandon Harless, 3xLOGIC Training Manager
FISHERS, Indiana (PRWEB) May 19, 2020
3xLOGIC, Inc., a leading provider of integrated, intelligent security solutions, today announced extended deadlines to sign up and complete its FREE infinias and VIGIL certification training courses, as well as sister company Sonitrol's CLOUD access and mySonitrol.net courses. Sign up for zero-cost training now ends on 31 May and participants have 30 days to complete the courses, even if they sign up on the last day of registration.
During these challenging times, the company has rolled out its best-in-class, eLearning Academy that's just as user-friendly as its wide array of solutions. 3xLOGIC wants to assist its partners in making productive use of unplanned downtime—get certified!
Trainees for all the courses come from 47 US states and 24 countries around the world. In all, 542 different companies are represented among the trainee pool and the course completion rate already exceeds 33% after only 6 weeks.
"Through this free training offer, the number of students currently enrolled in just the 3xLOGIC Certification Courses for infinias and VIGIL is greater than the total number of certificates we had issued before we started free training—that's incredible." said Brandon Harless, 3xLOGIC Training Manager.
New technician training certification for infinias consists of 10 modules and assessments. The infinias Access Control Certification course introduces new terminology to the student, presents core and peripheral hardware, and provides "best practices" for configuration and navigation. The VIGIL Video Management course also contains 10 modules featuring current hardware offerings as well as in-depth navigation of the VIGIL Client, Server, and other utilities within the VIGIL Suite of products.
The Sonitrol CLOUD Access Course introduces the Sonitrol network to the terms, concepts, and hardware associated with their Cloud-managed Access Control offering. A total of seven modules walk the trainee through the configuration, navigation, and management of the user interface and Dealer Portal. The mySonitrol course is geared toward the end user. This course consists of six modules that instruct on the key concepts from signing on, running reports, editing users, video integration and management of the Sonitrol Access Control System.
3xLOGIC and Sonitrol's eLearning Academy certification courses are available TODAY, to get started visit https://go.bluevolt.com/SPSAcademy
About 3xLOGIC
3xLOGIC Inc. has been a leading innovator in server and cloud-based security technology for 15+ years. The company is recognized for providing easy-to-use surveillance and business intelligence solutions that seamlessly integrate video, access control, and disparate data such as ATM, Point-of-Sale, analytics, and more.
3xLOGIC's video surveillance solutions are engineered for ease of installation, scalability and affordability combined with a managed services portfolio that enables integrators to effectively evolve from dealers to high-value strategic partners. Follow 3xLOGIC on Facebook, Linked-in, or our Twitter account, and read our latest news at http://www.3xlogic.com.
About Sonitrol
Sonitrol is the leader in verified electronic security, offering Intrusion Detection, Access Control, Video Surveillance and Fire Monitoring. Sonitrol's ability to verify intrusion, through patented audio technologies in real-time, offers unrivaled credibility with law enforcement. Sonitrol provides for some of the fastest police response times, lowest false alarm rates and the best apprehension record, over 180,000, in the security industry. For more information on Sonitrol, visit sonitrol.com.
Press Contact North America
Bruce J. Doneff, Public Relations, 3xLOGIC
843.476.3022
bruce.doneff(at)3xlogic(dot)com
Press Contact UK and Europe
Linda Tyrrell, The Henley Group International
linda(a)henley.co(dot)uk
+44 (0)1491 570972