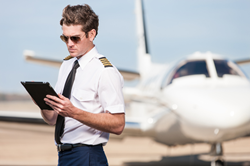 "While practical in-flight APS Upset Prevention and Recovery Training is ultimately essential for pilots to markedly minimize their risk of Loss of Control In-flight, effective UPRT solutions of any kind must start with knowledge enhancement through academic study."
MESA, Ariz. (PRWEB) September 24, 2020
Aviation Performance Solutions (APS), a global leader in Upset Prevention and Recovery Training (UPRT), announced today a 1.5-hour Free UPRT Insights Course by APS addressing an overview of unique and essential upset training concepts for every internet-connected pilot worldwide. In addition, an integrated all-new series of full academic UPRT courses is optionally available to pilots seeking to maximize their safety. Pilots can get started with the free course now at: apstraining.com/freeuprt
This all-new series by APS can't be found anywhere else and is presented by expert instructors with decades of experience teaching UPRT to pilots at all levels of flight experience. Whether a newly minted private pilot or a senior airline captain, these courses are for everyone and organized into logical bundles from UPRT Fundamentals through to Applied UPRT in High Performance Operations.
Because Loss of Control In-flight (LOC-I) is the number one cause of fatalities across all sectors of aviation, it is critical that pilots take steps to mitigate their risk and ensure they have the skills to bring everyone home safely. The UPRT Insights Course by APS gives pilots a comprehensive overview of critical academics related to life-saving prevention and recovery techniques that are not sufficiently addressed in certification training. Moreover, participating pilots can learn new academic aviation principles that guide successful prevention and recovery from an unexpected airplane upset, and learn more about their risk and how to be more prepared.
"This exciting Free UPRT Insights Course by APS made available to every internet-connected pilot worldwide is central to APS delivering on our purpose of We Help Pilots Bring Everyone Home Safely," said Paul BJ Ransbury, CEO of APS. "While practical in-flight APS Upset Prevention and Recovery Training is ultimately essential for pilots to markedly minimize their risk of Loss of Control In-flight, effective UPRT solutions of any kind must start with knowledge enhancement through academic study. It is our privilege to make it easier than ever for every pilot to start that process today at no cost."
ABOUT AVIATION PERFORMANCE SOLUTIONS LLC (APS)
Aviation Performance Solutions LLC (APS) trains thousands of professional pilots and instructors in comprehensive Upset Prevention and Recovery Training (UPRT) skill development each year. APS UPRT programs include integrated Loss of Control In-flight (LOC-I) solutions via industry-leading computer-based, virtual, on-aircraft (jet, turboprop, and piston), and advanced simulator UPRT. All training is in full compliance with the Airplane Upset Recovery Training Aids - Revisions 2 and 3, FAA Advisory Circular (AC) 120-109A Stall Prevention and Recovery Training, ICAO Manual on Aeroplane Upset Prevention and Recovery Training, IATA Guidance Material and Best Practices for the Implementation of UPRT, and FAA AC 120-111 Upset Prevention and Recovery Training. Headquartered at the Phoenix-Mesa Gateway Airport in Mesa, Arizona, with additional training locations in the USA and Europe, APS provides immediate, turnkey global access to comprehensive UPRT solutions. apstraining.com