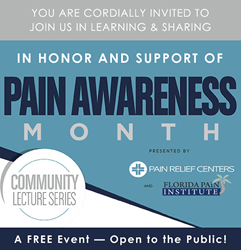 This is a great opportunity for the general public to benefit from the expertise of highly-skilled interventional pain management specialists — at no cost!
TAMPA, Fla. (PRWEB) September 14, 2018
In honor and support of Pain Awareness Month, PRC welcomes the public to join us for this complimentary community event, where expert pain management physicians will be presenting on topics related to the latest cutting-edge treatment options available for area patients suffering from chronic pain conditions.
DISCUSSION TOPICS WILL INCLUDE:

Low Back Pain & Treatment Innovations
New, Minimally Invasive Options in the Treatment of Spinal Stenosis
Comprehensive Treatment of Headaches & Migraines
Alternatives to Opioid Therapy to Control Pain
Neuromodulation Therapy in the Treatment of Chronic Pain
...and Much More
EVENT LOCATIONS & DATES:
Tampa, FL: September 24 — 27, 2018
Sarasota, FL: September 24 — 28, 2018
Melbourne, FL: September 27 — 28, 2018
Freebies will be included for attendees at all events / locations.
Please RSVP promptly to reserve your complimentary seat for this event — SPACE IS LIMITED.
FOR DETAILS & RSVP, visit: http://news.yourpainreliefcenters.com/blog/free-lecture-series-pain-awareness-month
-----------------------------------------------------
WHAT IS PAIN AWARENESS MONTH?
Pain Awareness Month occurs every September, when businesses and organizations focus on raising public awareness of issues related to pain and pain management.
In honor and support of this cause, Pain Relief Centers' interventional pain management specialists will offer their time and expertise to present the Community Lecture Series, for the purpose of making life-changing pain management information readily available to the public.
ABOUT PAIN RELIEF CENTERS
At Pain Relief Centers, our pain management specialists focus on providing comprehensive, personalized care for each patient. The highly-skilled providers at PRC take a multidisciplinary approach to advanced pain management, assessing your individual needs to more effectively relieve your chronic pain and restore your quality of life.
PRC's board-certified, fellowship-trained physicians are equipped with state-of-the-art technology and a comprehensive, multi-modal approach to treating your chronic pain. Relieving your pain and ensuring your comfort are top priorities at Pain Relief Centers.
If you are tired of living with chronic pain and want more information on options for minimizing or eliminating your suffering, contact Pain Relief Centers today at (800) 215-0029 or visit http://www.yourpainreliefcenters.com to set up a consultation at one of our clinics.