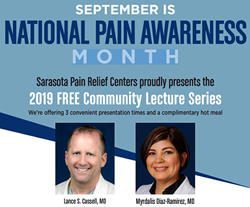 This is a great opportunity for the general public to benefit from the expertise of highly-skilled interventional pain management specialists – at no charge.
Sarasota, FL (PRWEB) September 11, 2019
In honor of Pain Awareness Month, Sarasota PRC Pain Management physicians will be in attendance to speak on topics related to the latest interventional treatment options available for Sarasota area patients suffering from chronic pain conditions.
FEATURED SPEAKERS AND TOPICS WILL INCLUDE:

Dr. Lance S. Cassell - "Low Back Pain and Available Treatment Options"
Dr. Myrdalis Diaz-Ramirez - "What are PRP and Stem Cells? How Can They Help My Pain?" and "Head to Toe: Non-Opioid Alternatives for Pain"
WHAT IS PAIN AWARENESS MONTH?
Sarasota PRC's Pain awareness community event is our contribution to Pain Awareness Month, which is highlighted every September when businesses and organizations focus on raising public awareness of issues related to pain and pain management.
In support of this cause, Sarasota PRC's interventional pain management specialists will donate their time and expertise to present the Community Lecture Series, with the goal of making valuable pain management information available to the public.
If you are one of the millions of Americans suffering from pain every day, we cordially invite you to attend the Community Lecture Series — at no cost — to learn more about your pain and become aware of the possibilities for relief from our expert pain management specialists.
Please RSVP to let us know you'll be attending… but don't wait, because SEATING IS LIMITED, and we want to reserve a spot for YOU!
HERE ARE THE IMPORTANT EVENT DETAILS:
Pain Awareness Month Community Lecture Series
Presented by Sarasota Pain Relief Centers
Date: September 26, 2019
Time: Three Convenient Lecture Times! 7:30 a.m., 12:00 p.m. & 5:30 p.m.
Location: Carlisle Inn Der Dutchman - 3727 Bahia Vista St., Sarasota, FL 34232
Please RSVP promptly: By email: painaware@surgerypartners.com or by phone: 941.923.2500
Or you can RSVP ONLINE HERE »
A complimentary hot meal will be served, and all attendees have the chance to win great door prizes. We look forward to seeing you there!
For more information about the event and the presenting Sarasota PRC pain management physicians, click here »
ABOUT SARASOTA PAIN RELIEF CENTERS:
Sarasota Pain Relief Centers serves hundreds of patients daily while maintaining a focus on providing comprehensive, personalized care for each patient. The highly skilled physicians at Sarasota PRC take a multidisciplinary approach to advanced pain management, assessing your individual needs to more effectively relieve your chronic pain and restore your quality of life.
Sarasota PRC's board-certified, fellowship-trained physicians are equipped with state-of-the-art technology and a comprehensive, multimodal approach to treating your chronic pain. Relieving your pain and ensuring your comfort are top priorities at Sarasota Pain Relief Centers.
If you are tired of living with chronic pain and want more information on options for minimizing or eliminating your suffering, contact Sarasota Pain Relief Centers today at 941-363-9400 or visit http://www.yourpainreliefcenters.com to set up a consultation at one of our clinics.