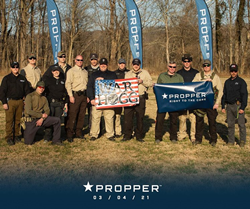 I thank Propper for making this event possible give these guys an opportunity to further develop thier life-saving skill.
ST CHARLES, Mo. (PRWEB) March 16, 2021
Missouri-based Propper International recently hosted a full-day training event at the Indian Hill OhioPolice Department gun range on March 4th. Members from multiple area police departments attended the voluntary training.
Throughout the day, officers received instruction from renowned tactical trainer Rick Hogg. Hogg is a 29-year US Army Special Operation Combat Veteran with 13 combat deployments between Iraq and Afghanistan. Since returning from overseas, Hogg provides comprehensive firearms training to military and law enforcement through his proven training methodology service company War HOGG Tactical, Inc.
"I've worked with many departments across the country, and have noticed officers are hungry for additional training and support," said Hogg. "I thank Propper for making this event possible and giving these guys an opportunity to further develop life-saving skill sets."
During the session, the focus was on increasing efficiency when drawing from a holster and changing magazines, both with dry fire and live-fire exercises. The afternoon session included intense physical calisthenics combined with live-fire shooting drills for the purpose of officers practicing newly learned skills while shooting under duress. The day was concluded by each officer being gifted gear and apparel by Propper to further aid them in the field.
"Propper is dedicated to equipping those who commit their lives to serve others. Whether its clothes, gear - or in this case - training, we want these guys to know we've got them covered," said Craig Madden, Senior VP of Marketing & eCommerce for Propper.
About Propper
Propper has made tactical gear with a purpose for over 50 years since their first U.S. Navy contract in 1967. Today, Propper designs and manufactures professional-level tactical apparel and gear for military, law enforcement and public safety professionals, and civilians, whether in the service, on the job, or off for the weekend.